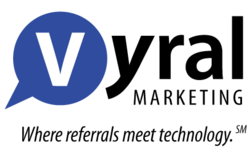 This video marketing program elevated our inquiries almost immediately.
KAPOLEIL, Hawaii, (PRWEB) February 12, 2013
Whether she's strolling one of Oahu's beautiful beaches, or playfully tossing a pie in the face of her colleague Attilio Leonardi, Hawaiian Real Estate pro Adrienne Lally puts a unique twist on each new Vyral Marketing informational video she delivers to her Email list of customers, past customers, future customers and business associates of more than 4,000.
One of Hawaii's hardest working real estate professionals, Lally incorporates a magnificent Oahu backdrop, local business venue or community landmark in each of her 30-60 second video blogs, part of the Vyral Marketing done-for-you customer database marketing service. Each short, educational video focuses on a topic that is currently hot in the Oahu real estate market.
Lally is one of a growing number of business and real estate professionals nationwide who have benefitted from the marked boost in customer interest since incorporating Vyral Marketing's video messaging package in their marketing strategy. Lally successfully adopted Vyral Marketing's advisory services, which include writing, editing and distributing each video to her entire client database, while managing to inject her own signature into each video, giving her the opportunity to speak directly to her customer base in a fun, down-to-earth manner they can relate to.
"This video marketing program elevated our inquiries almost immediately, and took us exactly where we had hoped it would," Lally says. "The ROI actually exceeded expectations, which allowed us to relax and gave us the freedom to enjoy the process and make it our own."
Lally said that before she began working with Vyral Marketing, the firm had tried to create a video blog series on their own, but it proved too much for the limited amount of time and technology they had on hand.
"It was stressful, we weren't doing what we wanted – there were too many moving parts.
"The appeal of partnering with Vyral Marketing to produce these educational videos is their 'done for you' strategy because they really do take care of everything for you."
With Vyral Marketing managing all the administrative and technical tasks, Lally can focus on bringing fun and local flavor to the short, informative videos she creates twice monthly for her customers. Once each video is filmed, it is uploaded to Vyral Marketing for processing and distribution, and she can get back to business knowing the rest is taken care of.
In addition to monthly strategy conferences with Vyral Marketing Coach Josh Cunningham, Lally says she can contact him whenever she has questions or needs expert input.
"Josh and I strategize every month, and he gives me invaluable information on what to talk about," Lally says. "Josh shares with me what topics are working for other real estate agents, what trends are hot at the moment, so I have a head start creating my videos."
Lally's videos are based on hot topics that tie in with subjects discussed on the "Team Lally" radio show that airs every Saturday.
Lally's real estate firm was ranked in the top 20 Realtors for 2012 by Hawaii Business Magazine with more than $28.6 million in sales last year alone. She attributes the firm's success to its willingness to reach out to home buyers at all economic levels, making it the busiest real estate firm in the State of Hawaii.
"We built our business working with military families who are relocating on and off Oahu, but many of our clients are non-military families on a tight budget," Lally says. "We don't turn anyone away, we are out to help everyone, and the informational videos help us speak directly to a wide audience."
Frank Klesitz, CEO of Vyral Marketing, says that the video blogs Lally and other Vyral Marketing customers distribute twice monthly provide them with the chance to position themselves as trusted experts in their fields, increase customer loyalty, and boost referrals and repeat business.
"It is the best way to utilize the number one asset business owners already have, which is their existing customer database," Klesitz says. "We help our clients get more sales from their entire customer database with minimal time expenditure.
"Businesses who follow the Vyral Marketing program for 12 months can expect at least 10 percent of their customer database to buy again or refer others."
To learn more about Vyral Marketing's video blogging service for business, request a free consultation, visit the Vyral Marketing website, call 1-800-323-9974, or Email frank@getvyral.com.
About Vyral Marketing:
VyralMarketing.com was launched in 2009 by Frank Klesitz to provide "done for you" education-based customer database marketing services to businesses and independent service professionals. Vyral Marketing offers a cost-effective complement to traditional advertising that results in more referrals and repeat sales. For a flat fee of $525 per month, Vyral Marketing customers receive video editing, custom article writing, social media marketing, Email marketing, and personalized feedback and coaching.
In 2012 alone,135 Vyral Marketing clients recorded more than 2,600 informational videos for distribution to their customer databases. Each Vyral Marketing client receives a monthly coaching call to receive personalized topic recommendations and scripts upon request. Vyral Marketing also provides a staff of video editors, writers and administrative personnel to handle the entire process, including distribution to the client's customer database via Email and social media.
###