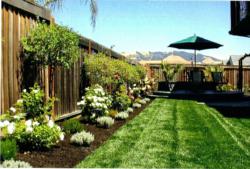 San Franciso, CA (PRWEB) October 13, 2012
Many homeowners want that custom, unique landscape that sets them apart from their neighbors. Such was the case in an upscale development in Northern California where everyone's yard looked the same.
A landscape specialist with 37 years of experience, Custom Landscape used their extensive knowledge and expertise to enhance the beauty of the home through a skillful blending of hardscape, plants, and lighting to make their clients the envy of the entire neighborhood.
As the saying goes, never underestimate the importance of making a first impression. The homeowners wanted to create a dramatic entrance to their home with color. "We chose stamped concrete in green slate with a curved radius design and added lighting for each individual step," Jeff Ferrasci, owner of Custom Landscape explains. "The large landing became a focal point in the front yard and was a tremendous upgrade over what the developer had in place. The entrance made a memorable first impression."
Tall Crepe Myrtle trees were planted on both sides of the walkway to balance the monolithic height of the house and a dry creek bed with Weeping Cherry trees in front of the lawn set this landscape apart. Complimentary colorful landscape plantings were planted and an extensive lighting system was added for a dramatic effect at night.
The rear yard proved to be challenging since it was long and narrow and lacked patio space. Realizing every inch of the yard must be used wisely, Custom Landscape created the illusion of more space. "We extended an olive paver patio to a lower landing by the back door and added a curved walkway leading to the master bedroom," Jeff says. "Much care was taken to cut the pavers so they fit together tightly and we maintained the circles and curves to an exact standard. Every paver was sealed with lacquer which brought out the deep color. On the upper patio, a seat wall with stone cap provided much needed built-in seating. Extensive lighting for the patio and the wall makes for easy navigation at night."
Tiered plantings, including Solanum vines trained as small trees and colorful Elegans roses and green and grey Santolina, were planted to soften the hardscape features. European Fan Palm trees were selected for their relatively low height and Loquat trees added a Mediterranean look. Colored plants and ferns were added throughout the back yard and behind the patio. Custom Landscape also built two redwood bowers at either end of the back yard as an entry and exit point with trumpet vines planted at the base to cover the structures with beautiful flowers summer through fall. A short redwood Japanese style fence was built around the air conditioner units with jasmine vines in front on separate trellises to control growth for air circulation. Three lighting systems, including up-lighting, walkway lighting, and pole lighting were employed for a theatrical effect.
"Even though this yard has many plants, pruning and overgrowth is not a concern since dwarf plants were used where space is tight and the trees and plantings in the background can grow a bit taller for the desired tiered effect," Jeff says. Careful landscaping design ensures that the homeowners will have color in their yard throughout the year and many evergreen plants were utilized so the landscape will keep its charm throughout the winter months. Although the instant full landscape looks beautiful now, with Custom Landscape's design skills, it will only get better with time.
If all that weren't enough, Custom Landscape's services were not limited to the outdoors. The final touch was on the inside with an 18' x 22' enchanting atrium located in the center of the home to add a sense of space and light. Flagstone style pavers were outlined with rectangular pavers around the edges with a six foot circle in the middle. Floor lights illuminate the area creating a perfect, relaxing retreat after a hectic day.
Many parts of a landscape project fit together to make them enticing and the right combination can change the look of a home considerably. The homeowners couldn't be happier with the outcome and plan to bring in artwork from their native country India for a final touch. "All in all, it was a very successful, innovative, beautiful, and enduring project," Jeff says.
For more information about this company that has designed and built over 100 landscape projects in the most prestigious addresses in the Bay Area, please visit their website http://www.jeffferrascicustomlandscape.com.
About Custom Landscape
Custom Landscape is a fully licensed, bonded, and insured landscaping company that can take a homeowner from design to completion. With 37 years of experience, Custom Landscape's professional team possesses a complete knowledge of design innovations, plants, local codes guaranteed to make any project a success. Their wide range of services includes landscape design and installation, concrete, masonry, irrigation, ponds, spas, atriums, garden structures and more. They serve the Bay Area including Danville, Alamo, Lafayette, Walnut Creek, Orinda, Moraga, and Dublin.