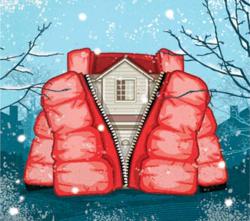 Winter storms are the third largest cause of catastrophic property loss, averaging over $1 billion every year
Atlanta, GA (PRWEB) September 19, 2011
With the official beginning of fall just days away, lower temperatures mean an entirely new environment for your home to exist in for the next five or six months, and environment that can lend itself to flood and water damage if not properly addressed ahead of time.
The providers at Water Damage Local.com report seeing a marked uptick in business during the winter, largely as a result of frozen and burst pipes, and they advise a proactive approach in defending a home or business from the elements during the colder months of the year.
Winter storms are the third largest cause of catastrophic property loss, averaging over $1 billion every year, with the average homeowners claim coming in just under $6000. In addition to frozen pipes, roof damage due to the weight of ice and snow plays a large part, as well as wind damage which can allow subsequent rain to get into a structure.
To prepare the exterior of the property:
Make sure all gutters and downspouts are clean and free of obstruction or clogging. Proper drainage of excess water will do much to prevent water damage.
Install gutter guards to prevent leaves, branches and other debris from getting into the gutters and creating clogs.
Trees on the property should be properly trimmed. The weight of snow or ice could cause them to break, causing damage to the property or injury to anyone standing in the wrong place.
Look for any cracks or holes in the walls, foundation, and roof of the property, basically any means by which water might be able to gain access to the interior. All pipes and other joints should be properly caulked, and doors, windows, and skylights properly equipped with weather stripping.
As for the interior, add insulation a necessary to keep the warm air in. If it escapes too quickly through the attic, it may result in the melting of snow and ice in large amounts, enough of which could get into the home and do serious damage.
On the flip side, water can also refreeze, which could result in additional weight on the roof, making it prone to collapse. Try to keep the attic at least five to ten degrees warmer than the outside air for a healthy balance.
Look at insulating unfinished rooms to prevent pipes from freezing. You can also wrap exposed pipes with heating tape.
Make use of an emergency pressure release valve in you plumbing. This is designed to detect increased pressure in your pipes caused by freezing and prevent the pipes from bursting.
You should also invest in a snow blower or other devices designed to remove snow, especially if the driveway or landscaping slopes towards the house. Snowmelt could result in runoff in all the wrong directions.
It is also advised to go ahead and obtain the contact information for a local, IICRC certified water damage restoration professional. In the event of a major water damage problem, professional help is always recommended in order to make sure all problems are correctly addressed.
Water Damage Local.com is a nationwide network of water damage restoration providers.
###