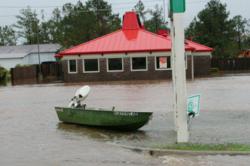 2011 has vividly demonstrated that flood conditions can occur anywhere, at any time, resulting in billions of dollars in damage to life and property.
(PRWEB) July 24, 2011
2011 has been a record year for severe weather and flooding. From rising flood waters in the Midwest, to record late spring/early summer snowfall keeping ski resorts in the Rockies open late into the summer, it has been one of the more memorable weather years in recent memory.
During the last half of May alone, the Missouri River received nearly a year's worth of rainfall, with the snowmelt at 212% of normal across the upper portion of the river system. This perfect combination of conditions resulted in the flooding of the Missouri basin reservoirs across eastern Montana and the Dakotas. Portions of the Missouri River experienced severe flooding conditions, with Kansas City expected to see flood levels crest at a record 39 feet.
Gavins Point Dam, a dam on the South Dakota-Nebraska border that's closest to Missouri, reached peak releases of 150,000 cubic feet — more than double record releases in 1997. Flood levels are expected to last throughout the summer, making recovery and reconstruction difficult, if not impossible.
In addition to the flooding, monster winter storms impacted much of the United States, beginning as early as January when snow and ice pummeled the country from the Rockies to New England, followed by a bitter cold snap that made thawing and melting a much slower process than normal.
According to NationalGeographic.com, what's been dubbed "Snowpocalypse 2011" is one of the worst storms since the 1950s. Most locations in the US received record snowfalls for the year, with over 16 feet in Caribou, ME; a little over 9 feet for Albany, NY; and almost 9 feet for Boston, MA. During this winter alone, Philadelphia has already experienced record snowfall at 37 inches, while New York has been blanketed with 56 inches. Over 20 inches of snow has fallen in Chicago -- the largest in the area since 1886, according to the NWS.
The one benefit of the extra snowfall was found in ski resorts across the Midwest, which were able to keep their lifts and slopes open until long past the July 4th holiday. Enough snow remained to facilitate skiing even though daily temperatures had risen into the 70's. Snowbird Ski And Summer Resort averages 500 inches of snow each season but the 2010-2011 snow year was above and beyond. This year the resort totaled 783 inches of snowfall, surpassing the old mark of 688 inches set in 1983-84.
2011 has vividly demonstrated that flood conditions can occur anywhere, at any time, resulting in billions of dollars in damage to life and property. It becomes of utmost importance for property owners to prepare homes and businesses for such an eventuality. Flood insurance can be purchased through the National Flood Insurance Program. The local emergency management office can provide historical flood data, invaluable in determining how much flooding a given area may have to deal with.
Properties should have proper drainage, with gutters, downspouts, and plumbing all in good working order, and landscaping sloping away from the property for a distance of no less than ten feet. Appliances and other electrical items located on lower levels should be elevated to prevent contact with flood water.
Property owners are also advised to obtain the number of a local, IICRC certified water restoration service. The ideal company should be available 24/7, with a full staff of trained professionals, and offer the complete range of services designed to remove excess water, dry and disinfect all surfaces, as well as repair and restore any structural damage caused by the flood water.
Water Damage Local.com is a nationwide provider of flood damage repair and water restoration providers.
###