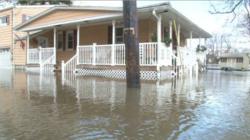 It has been called the worst flooding since 1940, with one of the county's dams damaged by floodwaters.
Atlanta, GA (PRWEB) August 17, 2011
Water Damage Local.com has been providing water restoration services for several years, but is seeing a record year of severe weather activity, the most recent being major flooding in the state of New Jersey, where flood damage to roadways may run into the millions of dollars following this weekend's epic rainfall.
A state of emergency was declared in Pittsgrove Township after more than 11 inches of rain fell. Other areas reported rainfall amounts between 5 and 9 inches.
"The storm that hit our county on Sunday hit us quick and hard," said Freeholder Bruce Bobbitt, chairman of the county's Public Works Committee. "Many of our areas saw the worst flooding that they have seen for many years."
The culprit was a slow moving storm system that remained planted over the eastern part of the county for an extended period, dumping tremendous amounts of rain on the area before finally moving on. Some residents saw rainfall for 12 hours straight, and the level of flooding was major.
By mid-morning on Sunday, public works crews were out in force, working with local officials to clean up the problem and address new concerns as they cropped up. Two bridges were wiped out as a result of the storm.
The Salem County Office of Emergency Management declared a county-wide state of emergency declaration at 9 p.m. on Sunday evening. The office will be working with the New Jersey Department of Environmental Protection's Dam Safety Division this morning in order to review damage to the several lakes and dams in the county.
It has been called the worst flooding since 1940, with one of the county's dams damaged by floodwaters.
While the situation has improved since the weekend, between 2 and 4 inches of rain fell in areas of the county already affected by flooding. On Sunday, a record-setting 4.6 inches of rain fell on Trenton, and Newark tallied the second-highest total for Newark a single day, with more than 6.4 inches.
"Even though this would be not such a heavy amount of rain normally, it's going to exacerbate the situation over certain areas that have already received heavy rainfall. Today would be a moderate event any other day."
Meteorologists agree that the forecast has improved drastically since Sunday.
More than 1000 homes were still without power as of Tuesday morning, most of which were in Warren County.
As the week progresses, meteorologists predict that the rainfall will get less and less intense, doing little to aggravate the damage already done. They do however warn of local problems that may arise, such as scattered thunderstorms which may bring intense rainfall to concentrated regions of the state. Such isolated squalls could produce more problems for areas already saturated. Most weather stations predict a marked improvement by mid-week.
Water Damage Local.com is a nationwide network of water restoration providers; IICRC certified outfits that have the manpower and equipment to handle even the largest flood damage or water removal needs. They advise residents to act before a disaster strikes, to secure a qualified provider that can be called upon if flooding or other damage does occur on their property.
###