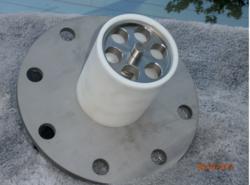 This water bill reduction valve has saved our clients up to 20% on water and sewer expense.
Southampton PA (PRWEB) December 26, 2012
Commercial Customers save 5 to 12% on water utility bills with a new Conservation Water Valve. A Pennsylvania energy consulting company is helping large water users nationwide reduce rising water bills at the source. Their patented valve is designed to slow water turbulence and compress air. The air in the pipes is plentiful, and for heavy users can equate to thousands or tens of thousands every month. This costly air serves no benefit, it is never requested and there won't be a refund.
Many are surprised to find that every building owner nationwide is faced with the same issue and because no one is aware of it, no one is complaining about it. Scott Milne of National Energy Technologies explains, "We are compressing and conditioning the air and turbulence mixed in the water from the municipality, which if left uncorrected, can cause the water meter to spin an additional 5 to 10%". It's true; we pay for the tiny bubbles mixed in with the incoming water supply from the utility. This air has always been a natural component to turbulent rushing water and as it passes through the meter it registers, and it reflects on the water bill. In fact, it is often paid for twice because the incoming water meter read is used to determine both water and sewer expense, in most cases.
Fortunately new technology has provided an answer to this dilemma. It is based on 18th century principals from Le Chatelier and the Venturi effect. This device is legally installed after the meter on the user's side. Yet it miraculously is able to compress and affect the air before it passes through the meter. Among other things this system will disrupt the usual swirl turbulence in the line without reducing flow. The device does not vent the air from the line but it does effectively compress it. The product is accepted by most municipalities and completely safe and sanitary. Although this technology is scalable it produces a much faster ROI for the large commercial or industrial water user. A Turbulence Reduction System uses a reverse flow pulse to compress any air that is entrapped in your water system. This propitietory process will have the following positive effects on stabilizing the flow entering a facilities water circuit.

This device is capable of reducing the meter spin by 5 to 15%
Reduce sewer expense (often taken from the incoming meter)
It will act as a "Shock Absorber" for incoming spikes of entrapped air
It moderates current or seasonal High Water Pressure Conditions
With any reverse in flow the device also acts as a secondary backflow device
Engineering Description
Also Called a Flow Management Device (FMD) the valve uses the flow of water to self-perpetuate an oscillation assembly, without noticeable negative effect on building pressure. The oscillation assembly will create a compression process that generates a backward thrust. The result is that air in water transforms into compacted state. The continuation of this process will alter the air to a maximum compression state. This super compressed air, then resumes travel through the water meter, along with clean flow water, and past the device. After the compressed air has traveled past the propriatary valve, the air will resume its original state of volume.
The valve design will further influence the flow dynamics by breaking up the flow into smaller jets which change the velocity profile from slightly parabolic (flow faster in the center) to a flat-faced velocity profile where the center flow velocity is slower and the wall velocity faster than normal.
This technology will also reduce the perpendicular (swirl) velocity vector in the pipe. When fluid travels through a pipe there are two velocity components. The first velocity is the forward linear motion through the pipe. The second component is perpendicular (sideways) to the first velocity. Generally water will flow more quickly in the center of the pipe and slower at the pipe walls. This device modifies the flow into a flat-faced velocity profile where the center flow velocity is slower and the wall velocity faster than normal. The 'swirl' type of velocity component that happens when a toilet is flushed is unproductive in the line "pre meter" and will be greatly reduced with proper equipment. It is only a properly sized and custom built turbulence management valve that is capable of manipulating these multiple dynamic flow principles, and results into a solution that offers a multitude of benefits.
For commercial businesses who are heavy water users like hotels, prisons, country clubs, assisted living, theme parks, car washes and bottling companies, savings come quickly. They may realize a return on investment under 6 months, on a valve that is guaranteed for ten years. This product is only one of the advanced conservation strategies That National Energy Technologies will consider for a comprehensive approach to an Holistic Energy Assessment.
National Energy Technologies LLC has elevated the standard of excellence of Conservation Consulting Services by combining expertise in multiple utility reduction practices in a comprehensive yet holistic approach. We are a commercial facility conservation consultant specialist. Our firm will introduce, and consult on targeted technologies designed to maximize utility savings with the shortest ROI. These techniques will save from 5 to 25% on electricity, cooling, water, or fuel, by correcting inefficiencies in; indoor air cooling, large refrigeration, lighting, laundry, compressed air, water flow and many other resource depleting activities. Contact National Energy Technologies performs energy assessments, corporate energy consulting, public speaking, and can consult on demand response, deregulated energy contracts as well as ongoing energy modeling. NET technicians are efficiency specialists; and understand all aspects of large facility infrastructure.