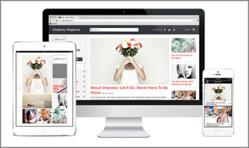 Saving time, money while engaging a meaningful audience with a world-class reading experience is a must for brands to stay relevant.
San Diego, CA (PRWEB) April 08, 2013
The growing trend of audiences embracing more than one mobile device to read, browse, shop and learn is challenging businesses and content creators who need to cost-effectively stay connected to their audiences.
According to a recent report from Deloitte, 26% of U-S consumers now own a smartphone, tablet and PC – a 160% increase year-over-year.
The report also acknowledges content owners and marketers' need to think about multiple platforms for their messaging during this shift.
Today – at the Social Media Marketing World mega-conference in San Diego - Readz announces the availability of their content platform for businesses and content marketers. Readz suite of publishing tools allows brands to grow their messaging - for multiple devices - without re-creating content two or three times for individual screens. With Readz, brands can develop slide-page, light-weight Web magazine apps as a smooth, uninterrupted experience for their readers and customers.
A growing dissatisfaction with "traditional apps" as a reading experience, along with bloated app downloads have led content providers to seek sleeker solutions.
"We understand the dynamic at play here," says Bart De Pelsmaeker, Readz CEO and founder. De Pelsmaeker, who is attending Social Media Marketing World, took a few moments to discuss Readz role with content marketing managers and agencies.
"Saving time, money, while engaging a wide, sophisticated, and meaningful audience with a world-class reading experience is a must for brands to stay relevant. We offer a full solution to transitioning just about any content into a tablet, phone and desktop friendly format."
That content includes blog and web content, publications, sales & product brochures, catalogues, PDFs and other collateral.
A promising new feature soon offered by Readz involves the next-stage of social media and viral growth; offering brands the ability to build micro-influencers as very targeted communities who share ideas and recommendations based on common interests. Web magazines created with Readz will offer these social tools built-in for brands to activate.
Readz robust suite of tools also includes:

content import (Wordpress blogs, Word docs, PDFs, etc.)
one-click cross-device publishing – update your magazine any time
branding and styling design tools
ready-to-go, customizable design themes
customizable article templates
stunning cover pages
content organization and lists
social engagement tools
option to create or upload your own design
expert assistance to get first Web magazines up and running design
Readz has also taken the heavy-lifting and development work out of the process. "There is no coding involved," says De Pelsmaeker.
Content can "go live" at any time with a first edition or make changes on your schedule. Readz Web magazines are instantaneous, meaning they can be made available anywhere – an email, company website, social media – and not just in a wall-off store such as Newsstand.
"Visibility is sometimes lost with some digital content," says De Pelsmaeker. "Some marketers find themselves bound to create something available only in a store … and then face restricting rules if they want to make a change. We see the future as more flexible, more encouraging."
-------------------------------------------------------------------------------------------------------------------------
A digital content marketing platform, Readz offers a complete solution to transform blogs, PDFs, print, or other content into stunning multi-device user experiences. Readz allows content providers to build their own Web magazine apps using Readz publishing suite of tools. Complete with pre-made, customizable design themes and layouts, there is no need for coding. Find Readz on Facebook and Twitter.