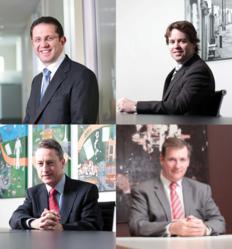 Westminster Lawyers are proud sponsors of the 15th National Family Law Conference, which boasts an impressive line-up of international and local guest speakers.
Melbourne, Victoria (PRWEB) October 15, 2012
Westminster Lawyers are proud to be announced as one of the key sponsors of the upcoming 15th National Family Law Conference, widely renowned as the leading and largest regular legal event in Australia. This year's conference will be held from 14-17 October at Hobart's Hotel Grand Chancellor and boasts an impressive line-up of international and local guest speakers who will present an outstanding program of continuing professional development and will provoke vital discussions about the future of family law.
In addition to their sponsorship pledge, Westminster Lawyers will also have a strong presence at the conference, with six of its ten team members set to attend.
As one of the leading firm's Directors and Family Law Specialists, Tony Salce, explains, "We are excited to be sponsoring the final plenary session at the upcoming National Family Law Conference, which aims to give family lawyers at all levels of experience access to the latest developments and thinking in family law."
"Our firm is committed to continually expanding our knowledge and practical skills and know that the professional program will be engaging and thought-provoking for all four of our directors as well as our firm's longest serving solicitor Philippa Darlow and highly experienced family law specialist Lucy Morgan."
This year's National Family Law Conference will be the most progressive yet from a technology perspective, with delegates able to interact with speakers, sponsors and exhibitors and get the latest information and updates about the conference via the mobile app.
Over the course of the three day conference, attendees will also have the opportunity to pioneer interactive keypad sessions in which the audience and expert panel members confront a series of fact scenarios, record their decisions, and compare results.
To find out more information about Westminster Lawyers and their involvement at the upcoming 15th Naitonal Family Law Conference, visit http://www.westminsterlaw.com.au
About Westminster Lawyers
Westminster Lawyers has built their strong reputation for providing expert and cost effective legal representation over many years and are proud to have nine Accredited Family Law Specialist lawyers among its team of twelve dedicated lawyers.
Their aim is to find the optimum solution for each client in the most efficient and effective manner possible, thus minimising the stress and impact of the wide array of matters contained within this highly emotive area of law.