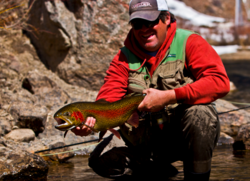 An exciting new movement in Colorado real estate development is balancing the demand for high-end, recreational homes with the need for long-term ranchland preservation. --Ron Welborn
Crested Butte, Colorado (PRWEB) April 25, 2013
The aura of the American West has long fascinated artists, authors, travelers and souls looking for a break from the fast-paced rhythms of the city. Distinctly woven into the West's rich history, ranching is becoming more accessible to those seeking this unique lifestyle without the day-to-day responsibilities or sheer cost that comes with purchasing livestock and hundreds of acres.
"An exciting new movement in Colorado real estate development is balancing the demand for high-end, recreational homes with the need for long-term ranchland preservation," says Ron Welborn, vice president of Jackson-Shaw, which is helping pioneer the concept with Wilder on the Taylor, a recreational ranch located on 2,100 acres between the classic Colorado towns of Gunnison and Crested Butte.
Wilder on the Taylor remains a cattle and haying ranch that has been continuously operated for nearly 100 years, with Jackson-Shaw committed to protecting nearly 90 percent of the historic ranch property from future development. No more than 26 homesteads, each with a minimum of 35 acres and a one-acre building envelope, will be allowed.
When Lewis Shaw, chairman and CEO of Jackson-Shaw and a longtime second homeowner in the Taylor Canyon, heard the iconic property might be turned into a golf course or a high-density development, he was determined to present a more sustainable and responsible option that would keep the land a working ranch for future generations.
5 Reasons to Consider a Recreational Ranch
Here are key reasons that current property owners at Wilder on the Taylor chose the recreational ranch option.
1. Most recreational ranches have convenient access to shops, restaurants, festivals, services and transportation in some of the state's most charming mountain towns, but owners also can take advantage of a secluded home site that is surrounded by nature and numerous outdoor activities in all seasons. Wilder on the Taylor is only minutes from Crested Butte Mountain Resort for premier skiing and snowboarding and the campus of Western State University of Colorado for example.
2. Many of Colorado's ranches were homesteaded along streams that not only provide important water sources for crops and livestock but also offer unparalleled fly-fishing. They also offer immediate access to neighboring national forests and other public lands for hiking, biking, hunting, cross-country skiing and more. The heart of Wilder on the Taylor is an expansive hay meadow bisected by the Taylor River, a fabled trout mecca that runs through the center of the ranch for nearly 2 miles. Approximately three miles of newly constructed stream on the property is fed from the Taylor River and Spring Creek and was by created Matt Weaver, owner of Fiver Rivers Restoration, offering a completely different and equally challenging fly-fishing adventure. Five stocked ponds are perfect for kids and those newer to the sport.
3. Recreational ranches provide the resources for ranching to continue and for families without ties to agriculture to become involved. Charles T. Stevens and James E. Stevens originally homesteaded the land that is now Wilder on the Taylor in late 1898. Wilder currently has a herd of 50 heifers and five horses and harvests approximately 300 acres of high quality Timothy horse hay. Don and Shelly Sabrowski have managed the ranch for nearly two decades and are raising their two sons onsite to help keep the ranching tradition alive and well. Calvin and Clay gladly show owners and guests the lay of the land and the 4-H projects they have underway in the restored barn complex.
4. Owners can experience ranch life by taking part in cattle drives, checking on the latest newborns, riding the horses and enjoying organic beef raised on site. The Sabrowskis make sure that owners take part in as much or as little of ranch happenings as desired. Any other ways to participate?
5. This is a new version of the Colorado cabin that can be passed down for generations and will be the favorite gathering spot for summer family vacations, holiday gatherings, a hiking weekend for the girls or a fishing getaway for the guys. Four fully restored historic guest cabins that border the Taylor River are available to Wilder on the Taylor homeowners and their guests and form the core of what makes up "central camp." A new Founder's Porch, that is similar to a high-end safari tent, provides a sheltered and attractive gathering spot on a large, grassy lawn that also has a fire pit, hammocks, rope swings, picnic tables, horseshoes and amazing river views.
"It's been a privilege to be part of the history and to maintain this beautiful piece of property for 18 years," concludes Ranch Manager Don Sabrowski. For more information and videos, visit http://www.wildercolorado.com.