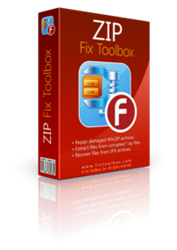 an ultimately powerful and efficient WinZip fix tool with an intuitive interface and a brand-new recovery core.
Chicago, IL (PRWEB) April 29, 2013
Fix Toolbox, a recognized expert in the area of data recovery solutions, is glad to present Zip Fix Toolbox, a powerful, yet very compact and easy to use tool for quick and hassle-free recovery of the contents of ZIP archives damaged in all kinds of data corruption incidents caused by power outages, virus attacks, hardware malfunctions and software bugs.
The program features an all-new file analysis engine that offers higher speed and accuracy of recovery, allowing users to get their data back in the most serious data corruption cases. The core of the program does not make any changes in the structure of damaged source files, thus making it possible for users to resort to alternative methods of recovery, if necessary.
This WinZip fix tool comes with an integrated ZIP file browser that lets users preview the contents of damaged files and mark all, none or good (100% recoverable) files only. Zip Fix Toolbox repairs all kinds of compressed ZIP files, supports self-extracting archives, works with files of any size and fixes CRC checksums. Zip Fix Toolbox is fully compatible with all major Windows versions, including Windows 98, NT 4.0, 2000, Me, XP, Vista and Windows 7.
"We wanted to create a tool that would be complex and intelligent inside, but a real no-brainer on the outside. The result is impressively efficient – we get lots of feedback about Zip Fix Toolbox and people are truly appreciative of its ability to restore data in situations where most other tools give up," says Boris Bobrov, Team Lead at Fix Toolbox.