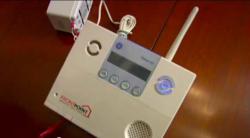 It's important that consumers consider these tips before considering to install a wireless alarm system.
Boulder, CO (PRWEB) February 25, 2013
A wireless alarm system is a great option for many homeowners, and even renters. There is a lot of ease and flexibility, as well as cost savings associated with a wireless security system, as compared to traditional hardwired systems. There are also additional benefits, such as the fact that a burglar won't be able to disarm the system by cutting the wires. Wireless systems are a great option for renters, as well, because they don't require installation techniques that change or damage the structure of a house or apartment.
According to AlarmSystemReport.com, a website offering alarm system reviews of the best wireless alarm systems, there are considerations to keep in mind before installation.
1. Unlike a traditional hard-wired system, a wireless alarm system offers more DIY options. Prior to deciding on a system, a homeowner or renter should first decide whether to install a DIY home alarm system, or to have a professional install the system. Either route is likely going to save in installation costs, because installing a wireless system is much more simple than installing a hard-wired system, and for many people the decision comes down to individual skills and abilities. When installing a wireless system it's important to gauge the range of the signals prior to installation. Since the system is not hard-wired, the homeowner or renter should be sure that every area of the home is covered by the system, keeping pets in mind when planning sensors and motion-detectors.
2. Determine what aspects of security should be included in the system. As with hard-wired systems, a wireless security system can be as basic or advanced as the homeowner or renter would like. There are a number of options that should be decided on prior to installation. Several alarm systems can be integrated into a wireless alarm system, including fire and smoke detectors, motion detectors, glass break detectors, etc. All of these will likely add to the cost of the system, but for many homeowners and renters they are worth the cost when it comes to installing a wireless system.
3. Choose an area for the wireless system that won't be subject to interference from other wireless systems, which can cause interruptions in the functioning of the wireless system.
4. For homeowners and renters planning to use a wireless system, it's important to remember that these systems don't connect to a phone landline, like most traditional hard-wired systems, so reliable cellular service is necessary.
5. Since a wireless system operates from battery power, they are a great option during for people concerned with power outages, but it is important for homeowners and renters to remember to keep batteries checked on a consistent basis, to ensure the system functions properly. Many wireless systems offer back-up battery options, and it's also a good idea to choose a system that will alert the members of the household if a battery is low.
About the Company
AlarmSystemReport.com is a provider of reliable, comprehensive reviews and price comparisons of top home security equipment and companies, including LifeShield reviews. AlarmSystemReport.com was created by a team of security experts, to assist consumers in making the best decision with regard to safety and security within the home.