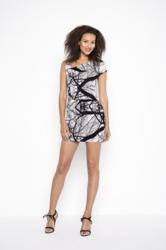 We employ sustainable business practices in every aspect of the business, from our selection of materials to the way we ship our products.
San Francisco, CA (PRWEB) April 21, 2012
While many might choose to celebrate Earth Day in Birkenstock sandals, tube tops made from blown out bike tires and miniskirts crafted from repurposed milk cartons, Skunkfunk is offering their online shoppers a way to show they care about the environment in a little more sophisticated fashion.
Now through the end of April, 2012, the online eco-friendly fashion retailer is offering discounts on the new Spring-Summer 2012 Skunkfunk Collection. Shoppers just enter promo code EARTH2012 at checkout, and they will instantly save 15% off their purchases.
"Skunkfunk is an eco-conscious company," said Kyle Retzik, owner of Skunkfunk USA. "We employ sustainable business practices in every aspect of the business, from our selection of materials to the way we ship our products. We even produce reusable bags out of our fabric scraps."
Skunkfunk (http://www.shopskunkfunk.com) offers urbanites eco-friendly fashion, including convertible clothing that can be instantly redesigned for different looks and occasions. The Spanish-born purveyor of fine clothing is applauded for its eco-friendly fabrics and ethical distribution practices that harmonize with the environment.
Skunkfunk works hard to bring positive change to three areas of the fashion industry: people, planet and prosperity. Textiles are carefully chosen based upon their impact to the environment, and include recycled polyester, organic cotton and Lyocell.
RECYCLED POLYESTER
Polyester comes from crude oil, a natural scarce resource with a low renewability ratio. Recycled polyester is processed in a less energy intensive way than creating virgin fibers, and it's a perfect option to give a second life to post-industrial remains or post-consumer plastic waste.
ORGANIC COTTON
Organic Cotton is a natural fiber cultivated without the use of synthetic chemicals, such as pesticides or fertilizers, and is not genetically modified.
LYOCELL
Lyocell is a light and silky textile made from regenerated cellulosic fiber that comes from eucalyptus wood pulp. The biodegradable fiber is extracted under a sustainable closed-loop process that saves energy.
For more information about Skunkfunk's products, call (415) 692-7678, go to http://www.shopskunkfunk.com, or visit one of their three stores located at 1475 Haight Street (Haight-Ashbury) and 302 Valencia Street (The Mission) in San Francisco or 181 Orchard Street (SoHo) in New York City.
About Skunkfunk
Skunkfunk is a Spanish-born New York and San Francisco clothing store that specializes in environmentally-friendly women's, children's and men's clothing. Skunkfunk has stores in San Francisco, New York City, various European cities and online. Their clothing is also sold in multi-brand stores throughout the United States.