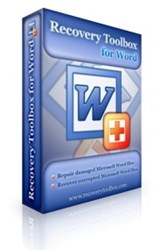 an ultimately efficient Microsoft Word recovery tool featuring an all-new file analysis and data recovery engine and an interface simple enough to be used by people with basic computer literacy.
Chikago, IL (PRWEB) April 03, 2013
Recovery Toolbox, an established developer of various file repair and data recovery tools, presents Recovery Toolbox for Word, one of the best-in-class solutions for quick and hassle-free Word recovery. The software supports all versions of Word document (*.doc and *.docx) and template (*.dot and *.dotx) files damaged as the result of all kinds of data corruption incidents.
In addition, Recovery Toolbox for Word works with Rich Text Format (RTF) files. The program only recovers text without formatting or embedded objects. Word data can be recovered from any type of drive or disc, including CD/DVD/Blu-Ray, ZIP and even floppies. The software is provided in the form of a compact installation package that takes seconds to download and deploy on the user's PC.
"Microsoft Word has the most users among other word processors, so the decision to add a recovery tool for this program to our portfolio came quite naturally," explains Victor Bobrov, founder of Recovery Toolbox. "Despite its simplicity, the program comes in incredibly handy in situations when a file with the results of months of work gets damaged all of a sudden. Being able to extract text from an otherwise unreadable file is indispensable in a great number of situations, so we put a lot of effort into further improving this product."
The trial version of Recovery Toolbox for Word is available as a free download from the official program website. All Recovery Toolbox files are thoroughly tested with major anti-virus tools before getting published.