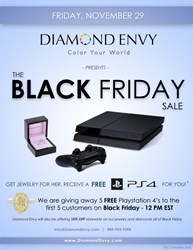 New York, NY (PRWEB) November 29, 2013
The best Black Friday deal of the day is coming to you. Stay home, sleep off that turkey-induced coma until a decent hour, and still get the most sought after present of the season—a PS4. Today DiamondEnvy.com will be giving away 5 PlayStation 4's for free. Be one of the first five customers to purchase a piece of jewelry after 12:00 PM EST today and receive a PS4 with your order.
Additionally, prices are slashed across the store by 10%. Yellow diamond earrings that were $121,341 are now $109,207. A pink diamond engagement ring that was $10,880 is now $9,792.
Our all-natural black diamonds are marked down even more. It's 20% off our all natural black diamonds in a Black Friday for Black Diamonds Deal! A 5.58 carat fancy black diamond that was $13,750 is now $11,000. A 1.09 carat pear-shaped all-natural black diamond that was $2,582 is now $2,066! The savings just keep piling up.
Win big when your loved ones go crazy for the amazing diamond jewelry and PlayStation 4.
PS4 offer is open to all residents of the contiguous United States (excludes Alaska and Hawaii). Our usual 60 day return policy does not apply to winners of this offer. Instead, returns on qualified orders will only be available for seven days. The PS4 must be returned with the order sealed and in its original packaging for the refund to be issued otherwise only store credit will be issued.
About Diamond Envy
Diamond Envy was launched in 2013 to bring colored diamonds to retail customers at wholesale prices, specializing in fancy yellow diamonds and fancy pink diamonds. For 15 years we've worked in New York's famed Diamond District as diamond manufacturers—sourcing rough diamonds from ethical, conflict-free suppliers, cutting and manufacturing them into their polished state, and selling them to the wholesale market. Now we want to share our high quality inventory directly with you. Diamond Envy is a new concept in diamond e-commerce: a curated source of the best certified fancy color diamonds and jewelry at wholesale prices made available to you, a resource even more valuable to us than diamonds: our clients.
We pride ourselves on our friendly and available customer service. Think of us as your jewelry concierge—available to you in whatever capacity you need, whether as a design liaison, gemology educator, or a hand to hold through your first jewelry purchase. Call us, email us, or chat with us when we're online. It's our job to be available to you throughout the buying process to ensure your full satisfaction. Our toll-free number is 888-983-9588 and we will be available on Black Friday from 9:00 AM EST- 5:00 PM EST.