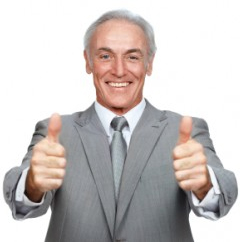 Dr. Allen's therapeutic device is designed to treat the prostate gland locally and without side effects.
London, UK (PRWEB) February 27, 2013
Increased levels of prostate-specific antigen (PSA) in blood can be a sign of prostate enlargement as this organ produces small amounts of the antigen. A decrease of PSA level reported by men after wearing Dr. Allen's Device over a period of time is a strong indication of the efficacy of Thermobalancing therapy, highlights Fine Treatment.
A significant improvement in the PSA level is often reported after about a year of wearing Dr. Allen's Device for Prostate Care. On February 8, 2013 Gary from Florida shared: 'Since I purchased the device over a year ago, my PSA went from 8+ to below 4.0!'
Another successful treatment example comes from Joe who now says, 'On January 22 (2013) my PSA was 3.0 from 5.2 in late November!' Also, on February 16, 2013, after wearing Dr. Allen's device for a year, Tim from Baltimore wrote, 'my PSA went from 8 to 5 last year.'
According to the National Institutes of Health (NIH), "Older men typically have slightly higher PSA levels than younger men. Commonly used ranges are as follows: Men below age 50: PSA less than 2.5; Men 50 - 59 years: PSA level less than 3.5; Men 60 - 69 years: PSA level less than 4.5; Men older than 70 years: PSA level less than 6.5."
It is normal for the prostate gland to release small amounts of PSA into your bloodstream. When the prostate grows, PSA levels increase. When the prostate is removed, PSA levels fall close to zero. Most procedures done for an enlarged prostate remove only part of the prostate, which partially decreases PSA levels, states Erik Castle, M.D from the Mayo Clinic.
Sadly, having undergone prostate removal procedures, men typically experience a whole range of new health problems. Just take a look at some of the experiences men have shared on Men's-Health Forum on Retrograde Ejaculation after Prostate Surgery: "Do not get laser prostate surgery – if you still enjoy having sex, you will not afterwards – they don't tell you everything!" dated 06/25/2011; or a post dated 10/2/2011 says: "I'm 44 male, 8 months ago I had Holap operation for BPH and still now I'm living a nightmare. Do not touch your prostate. The annoying symptoms you have now are nothing compared to what you have after surgery."
With proven efficacy, Dr. Allen's Device provides a harmless treatment at home without any discomfort. Here you can watch a video on how a man with a hugely enlarged prostate has shrunk it by wearing Dr. Allen's Device for Prostate Care: http://www.youtube.com/watch?v=dCFy_jZgCLw. Further user feedback is available on Fine Treatment website.
"The Thermobalancing therapy terminates BPH by improving the condition of the prostate gland that consequently decreases PSA level in blood," says Dr. Simon Allen. "Dr. Allen's therapeutic device is designed to treat the prostate gland locally and without side effects."
For details, please visit Fine Treatment at http://finetreatment.com/bph-treatment-prostate-enlargement.
About Dr. Simon Allen and Fine Treatment:
Dr. Simon Allen is a highly experienced medical professional. His specialty is in the internal medicine and cardio-vascular field. He has treated a wide range of chronic diseases, including patients after a heart attack, with kidneys problems, including kidney stones disease, prostate and spine conditions, as well as metabolic disorders. Fine Treatment exclusively offers Dr. Allen's Devices for chronic prostatitis and BPH treatment, coronary heart disease, dissolving kidney stones, as well as back pain and sciatica relief.