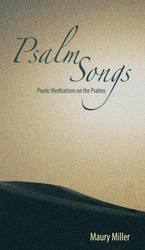 Terre Haute, IN (Vocus) November 2, 2010
Taking inspiration from each of the biblical Psalms, debut author and emerging voice in inspirational poetry Maury Miller brings Psalm Songs: Poetic Meditations on the Psalms (published by WestBow Press), a poetry collection that translates the Psalms into the language and syntax of the modern day reader.
Speaking to the faithful within each reader, Psalm Songs allows readers to engage in the potential contemporary interpretations of each of the 150 Psalms and find new ways to connect to the biblical narrative. Miller culled these poems from his own daily meditations, which revealed his own unfamiliarity with the Psalms and breathed new life into his faith. Not paraphrasing or restating, Miller's poems bring a refreshing new perspective to each biblical passage. With his poem for Psalm 23, featured here in excerpt, Miller is unafraid to record his personal response in his own enlivening words:
"The Lord is my shepherd; I shall not want.
The Lord is my path, and the one who leads me on it.
Green pastures, quiet waters, all my ways
are guided by the Lord.
I know peace and solace, even in turmoil;
I am not afraid. The Lord is my path.
And up ahead—a feast, a joy.
The Lord's cup overflows and spills onto me.
I know where I am; I will dwell in the house of the Lord forever."
To be used as a launching pad for readers' own meditations, Psalm Songs is engaging, relatable and poetically rich.
About the Author
Maury Miller currently resides in Terre Haute, Ind., where he attends Memorial United Methodist Church. He has been a professor in teacher education, preparing special education teachers at Indiana State University for over 30 years. He has been on the education faculty at three other universities and taught in schools in Illinois. Miller has been married for over 40 years, with two adult children and two grandchildren.
About WestBow Press
WestBow Press is a strategic self-publishing alliance of Thomas Nelson, the world's premier Christian publisher, and Author Solutions, Inc. (ASI), the world leader in the fastest-growing segment of publishing. For more information, visit http://www.westbowpress.com.
# # #