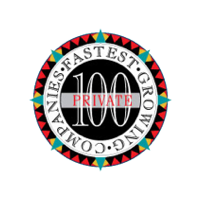 It's an honor to be a part of this select group of businesses.
Seattle, WA (PRWEB) September 30, 2013
The Puget Sound Business Journal has just released this year's 100 Fastest-Growing Private Companies in Washington State, and efelle media -- the area's leading custom web design and development firm, is thrilled to have made the list. "It's an honor to be a part of this select group of businesses," says Founder Fred Lebhart. Companies on the list collectively generated revenues of more than $1.5 billion in 2012 and achieved three-year revenue growth of more than 173%.
The Puget Sound Business Journal's 100 Fastest-Growing Private Companies award program celebrates Washington's most dynamic companies that contribute to the state's economic stability and growth. In order to make this prestigious list, companies must have recorded revenue of at least $500,000 in 2010 and demonstrated revenue growth through 2012. In addition, the firms must have been privately held during the reporting period and headquartered in Washington State.
Being honored by the Puget Sound Business Journal and a part of the list of other great businesses in the area is an achievement efelle media is proud of. The company thanks the Puget Sound Business Journal for recognizing efelle and all the incredibly deserving companies on the list this year. Register here if you'd like to attend the 100 Fastest-Growing Private Companies Award Ceremony in Seattle.
Seattle Online Marketing & Web Design Firm
Efelle is a leading online marketing and website design & development firm headquartered in Downtown Seattle. Founded in 2005 by Fred Lebhart, Efelle now employs a team of 26 full-time staff members who service over 450 clients in 18 states. They've helped everyone from fledgling start-ups to Fortune 100 companies around the nation with their online marketing, web design and website development needs.
Their multidisciplinary team consists of online marketing consultants, project managers, web designers, software developers, and copywriters who work cohesively together to bring client ideas to fruition. The company has sustained its growth and repeatedly and consistently generated strong revenues and profits by offering a full suite of services under one roof, including graphic design, web design & development, search engine optimization (SEO), email marketing, and professional website copywriting.
They've also penetrated new markets and industries with their innovative website content management system (CMS), FusionCMS. The FusionCMS platform is an intuitive, easy-to-use CMS that allows business owners to update their websites in real-time without a developer, eliminating website maintenance costs and enabling businesses to maintain a website with a fresh and dynamic feel. Some of FusionCMS's features include the following:

Mobile website driven and managed by the same CMS
Easy-to-use business intelligence dashboard
SEO tools
Blogging module
Integrated newsletter marketing
Automated social media marketing
Comprehensive contact management database
Testimonial and case study module
Website analytics
Interested in Learning More About How Efelle Can Help?
Efelle Media is a premier Seattle website design and development company that can not only build lead-generating websites that capture the essence of companies' brands, but also aid in marketing businesses effectively online in today's increasingly complex promotional environment. Contact Efelle today by calling 206.384.4909 or visiting their website.