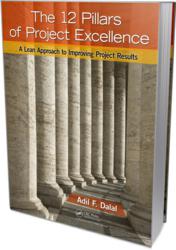 Being a leader requires knowledge, skill, commitment, a winning attitude and most importantly ethics or an inner moral compass. Leaders with everything except the inner moral compass eventually falter and fail.
Austin, TX (PRWEB) January 23, 2013
Becoming a champion in any field of life, be it of a personal or business nature, often requires a demanding regimen that separates the winner from their toughest competitors. Former champion cyclist Lance Armstrong was often considered to be a raw talent, whose combination of innate physical gifts and commitment predisposed him to greater success. What else could explain him not having only survived cancer, but also having the dedication to return to championship level to win the Tour de France seven times? Unfortunately, Armstrong's larger than life story was not all it was cracked up to be, as the world now knows that Armstrong's gifts were being abetted by the use of Performance Enhancing Drugs (PED). In the book, The 12 Pillars of Project Excellence, author Adil Dalal says that "winning is an attitude we all need to develop; but playing the game the right way is vital".
In Dalal's book, he also discusses how corporations and athletic organizations can develop a true winning culture by instilling in their leaders and their champions the idea that a thirst for victory is important, but winning at any cost is not acceptable! White collar crime or corporate cheating is becoming rampant today and stories about several executives and reputed leaders falling from great heights to the ground below with a sickening thud, is commonplace. A classic example of this is the story of Rajat Gupta, a former director at Goldman Sachs, who after enduring the hardship of taking care of his family as an orphan, went on to become one of the financial industry's most respected executives. However, Gupta's reputation and career were forever tarnished after he was convicted in 2012 on charges of conspiracy and securities fraud. Dalal's advice of creating a culture of ethics and moral responsibility needs to be part of the mission statement of every successful organization.
Our society loves to celebrate the winners, and is even willing to forgive and forget some of their transgressions. However, when the heroes demonstrate gross disrespect of the rules of engagement, our society equally enjoys admonishing and shunning the pseudo-champions and the pseudo-leaders. A case in point –Roger Barry Bonds, Roger Clemens and Sammy Sosa, all holding record-breaking home run credits in major league baseball, have become "pseudo-champions" with their career records and accomplishments essentially "annulled" by the MLB when they were recently denied entry to the baseball hall of fame, an action applauded by the fans of baseball.
Being a leader requires knowledge, skill, commitment, a winning attitude and most importantly ethics or a personal moral compass. Leaders with everything except the ethics eventually falter and fail. Dalal gives the example of two skating champions who wanted to win and be at the pinnacle of their sport - Scott Hamilton and Tonya Harding. In personal life, Scott Hamilton has battled testicular cancer and was operated for a brain tumor and on the ice he has competed fiercely and has won several gold medals in every national and international competition he participated in including the Winter Olympics. On the other hand, Tonya Harding; instead of pushing herself to achieve more, resorted to a criminal act and gained world-wide notoriety when she plotted to break her competitor Nancy Kerrigan's leg, to prevent her from competing. Both Hamilton and Harding had a great desire to be winners, but Hamilton raised himself above his competitor by his tremendous talents and efforts, whereas Harding wanted to win by hurting her competition. Dalal says, "There are two types of giants, one who rise in stature and stand tall among their competition by their own hard work and extraordinary efforts, and others who want to tower above their competition by chopping off the competitor's legs or by gaining unfair advantage over their competition. One is a true winner and a champion and the other is just a cheater and a pseudo-champion. The difference is that the true champions and true leaders consciously choose to utilize their inner moral compass which helps them find their "true north" in everything they do in personal and professional lives".
Adil Dalal is the CEO and President of Pinnacle Process Solutions International ®, LLC. He is the author of The 12 Pillars of Project Excellence™, and co-author of The Lean Handbook: A Guide to the Bronze Certification Body of Knowledge. For more information please contact Pinnacle Process Solutions at info(at)pinnacleprocess(dot)com or at (512) 212-1166.