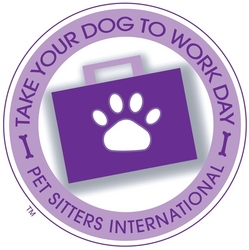 In today's economy, pet adoption is the most eco-friendly and budget-conscious option for finding your next four-legged best friend
King, NC (Vocus) June 13, 2009
Belly rubs, ear scratches and treats may not be the employee perks you're used to--but all of these benefits will be commonplace at Village Green on Friday, June 26. The upscale apartment communities company, based in Farmington Hills, Michigan, will be participating in Take Your Dog To Work Day for the ninth consecutive year.
The company involves all employees on this special day, which includes photo contests, a doggie costume competition and a charity auction.
"Online auction donations are coming in every day," says Village Green event organizer, Christine Eluskie."Our goal is to raise $5,000 for our local Animal Placement Bureau."
Friday, June 26, marks the 10th anniversary event of Take Your Dog To Work Day (TYDTWDay), created by Pet Sitters International and presented by BringPetsHome.org, a charity committed to pet care for animals in need, and FetchDog, your destination for dog supplies.
The event was established in 1999 to celebrate the great companions dogs make and encourage their adoptions from local shelters, rescue groups and humane societies.
"BringPetsHome.org is pleased to co-partner with FetchDog for Take Your Dog To Work Day by promoting dog-friendly work environments and helping shelters care for homeless pets by leveraging every day purchases at pet lovers' favorite retail stores," stated Claire Fisher, Head of Marketing for BringPetsHome.org.
Employers across the country are encouraged to open their doors to employees' canine "best friends" on this fun summer Friday. In addition to offering a "pet" perk to employees who might be affected by recent downsizing and decreased benefits, this dog-friendly event also allows businesses to give back and promote pet adoptions in their local communities.
Eluskie knows firsthand the joy that an adopted pet can bring. Her dog, Chloe, who accompanies her to work each Take Your Dog To Work Day, was adopted from Michigan's Animal Placement Bureau.
"Chloe was my first foster puppy from the Animal Placement Bureau and I knew I couldn't leave her, so I decided to adopt. She is such a unique girl and makes me laugh. The smile she brings to my face everyday is amazing," says Eluskie.
Currently more than 300,000 pets are available for adoption and listed on the Web site of Petfinder.com, the official 2009 TYDTWDay adoption partner.
These "secondhand dogs" offer first rate love and as people look for ways to do more with less, adopting a dog is one of the basic, most affordable ways to bring joy to a family.
In fact, the ASPCA reports that the average annual cost of caring for a medium-sized dog is around $695.00--less than a cup of gourmet coffee per day for a year and about the same price as a one-year fitness center membership.
"In today's economy, pet adoption is the most eco-friendly and budget-conscious option for finding your next four-legged best friend," says Beth Stultz, TYDTWDay event spokesperson. "We believe that employees without pets will be encouraged to adopt on Take Your Dog To Work Day when they witness the special human-animal bond and benefits of pet ownership."
Indeed, the benefits of pets are plentiful. Dog ownership improves well-being, decreases stress and even promotes weight loss and a healthier lifestyle.
Pet Sitters International, along with 2009 campaign partners Petfinder.com and Dog Fancy magazine, wants prospective pet owners to know that "secondhand dogs" offer these very benefits and are waiting at shelters across the country for the chance to prove it.
Businesses, shelters and pet lovers interested in promoting pet adoption through Take Your Dog to Work Day are encouraged to visit http://www.takeyourdog.com to register their support, download an event Action Pack and enter the official 2009 TYDTWDay photo and video contests.
About Pet Sitters International
Established in 1994, Pet Sitters International (PSI), is the world's largest educational association for professional pet sitters, representing more than 8,000 independent professional pet-sitting businesses in the United States, Canada and abroad. PSI provides members with access to affordable bonding and liability insurance and educational resources such as PSI's Accreditation Program, The Pet Sitter's WORLD magazine and PSI's annual Quest for Excellence Convention. PSI provides pet owners with The Pet Owner's WORLD magazine and thepetsitblog.com. For more information, visit http://www.petsit.com, home of the Official Pet Sitter Locator™ or visit the PSIStoreOnline to select from more than 2,000 pet sitter and pet owner products.
About FetchDog.com
FetchDog was created to offer passionate dog people a place to find the highest-quality dog supplies, including dog beds and pet gates, credible advice on their dog's health and wellness, and an online community of fellow humans who love their dogs. More than just a shopping site, FetchDog.com has thousands of ad-free pages of deep information about health issues, training, behavior, breed selection, puppy care and dog adoption. Always current and fresh, FetchDog.com also has dog features and news stories, expert and celebrity blogs, world-class dog photography, games, videos and community-oriented centers for hundreds of dog breeds.
About BringPetsHome.org
BringPetsHome.org is a non-profit animal charity that helps care for animals in shelters. Their mission is to support animals in shelters until they find permanent, loving homes.
BringPetsHome.org offers pet lovers the opportunity to raise money for animal shelters simply by shopping online at their favorite merchants, and provides a platform to connect with other animal enthusiasts in the online community. BringPetsHome.org donates 100% of the money raised to animal shelters, helping homeless pets directly by paying for food, shelter, and medical treatment.
About Dog Fancy Magazine
Dog Fancy is the world's most widely read dog magazine. It is devoted to the care and enjoyment of all dogs - purebreds and mixed breeds alike. Every month it educates, enlightens and entertain its readers, providing them with engaging, accessible information they need to be responsible dog owners. Since its inception, Dog Fancy has inspired, informed and entertained readers with award-winning editorial. Features include expert advice on selecting the right dog, training, health and grooming
About Petfinder.com
Petfinder.com is an online, searchable database of more than 300,000 adoptable pets from more than 12,000 animal shelters and adoption organizations across the United States, Canada and Mexico. Visitors can search by breed, age, size, gender and location to find the pet that fits their needs. Since it was founded in 1995, Petfinder.com has helped more than 12 million pets find permanent homes. Entirely ad supported and free to both shelters and users, Petfinder.com was named one of TIME magazine's 50 Best Web Sites of 2008.
Contact:
Beth Stultz
Event Spokesperson
beth(at)petsit.com
(336) 983-7747
Contact:
Terry Chance
Marketing Director
(336) 983-2991
terrychance(at)petsit.com
###