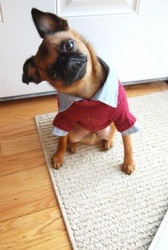 Since TYDTWDay is predominantly an online campaign, Facebook and Twitter users, as well as bloggers, played significant roles in helping spread the word about how businesses could plan an event to support this cause.
King, NC (Vocus) July 10, 2009
Tongues and tails were wagging on Friday, June 26, as businesses across the country and abroad participated in Take Your Dog To Work Day® (TYDTWDay®) created by Pet Sitters International (PSI) and presented by BringPetsHome.org, a charity committed to pet care for animals in need, and FetchDog, your destination for dog supplies.
Participants are still encouraged to take part in the official 2009 TYDTWDay photo and video contests. Photos uploaded to the Professional Pooch Gallery at http://www.takeyourdog.com will be judged by a third-party panel and the winner will receive $500 cash, $500 donated to a shelter of his or her choice and a FetchDog prize pack valued at $200.
Videos may be uploaded at the TYDTWDay Facebook page and the winner of the video contest will receive a FetchDog prize package valued at $100; three random registrants will be selected to receive $25 FetchDog prize packages. Both contests end July 31, 2009.
"At a time when the need to promote pet adoption is at an all-time high, we were thrilled to see businesses rally their employees and local communities for such a worthwhile cause," says PSI President Patti Moran.
In all, more than 120,000 visitors explored the official TYDTWDay site, http://www.takeyourdog.com, to learn more about becoming involved with the 2009 campaign and contests. Businesses in all 50 states, Puerto Rico, the Bahamas, Canada, Australia, New Zealand, the United Kingdom, Netherlands, India, South Africa and Zimbabwe hosted events to celebrate dogs and promote pet adoption.
"We commend the remarkable participation by employers in this year's TYDTWDay promotion," stated Claire Fisher, Head of Marketing for BringPetsHome.org. "On behalf of all of our animal shelter and rescue partners, thank you for your support in finding homes for and bettering the lives of homeless pets." BringPetsHome.org offers pet lovers the opportunity to leverage every day online purchases at their favorite retail stores to raise money to help shelters care for homeless pets – at no additional cost to the shopper.
One such participant was Laura Croker, senior manager of internal communications at Hitachi Data Systems in California. The company celebrated with week-long festivities, including a pet fair and boutique, pet photos and talent show, as well as a raffle with proceeds going to local pet-related charities.
"About 40 employees brought their dogs to work and even more stopped in for the pet fair and talent show," Croker said. "Even co-workers without pets were smiling and having a good time. The event brought a really happy energy to the office that day."
"Finding homes for dogs is an endless job and a wonderful, charitable cause," said Susan Chaney, editor of Dog Fancy Magazine. "What better way to spread the word about dogs' value to their owners and to our society than by taking them to work with us? We applaud all the companies and organizations that have opened their doors to these amazing creatures – whether it is for one day or all year long."
Beth Stultz, TYDTWDay event spokesperson, acknowledged that social media played a big role in the success of this year's event. "The buzz over this year's event was unprecedented," Stultz said. "Since TYDTWDay is predominantly an online campaign, Facebook and Twitter users, as well as bloggers, played significant roles in helping spread the word about how businesses could plan an event to support this cause."
This year's event marked the tenth anniversary of the day and the 2009 campaign was bolstered by participation from partners, Dog Fancy magazine and Petfinder.com.
To learn more about Take Your Dog To Work Day, register your participation or enter the photo or video contests, visit http://www.takeyourdog.com. The 2010 event will take place on Friday, June 25.
About Pet Sitters International:
Established in 1994, Pet Sitters International (PSI) is the world's largest educational association for professional pet sitters, representing more than 8,000 independent professional pet-sitting businesses in the United States, Canada and abroad. PSI provides members with access to affordable bonding and liability insurance and educational resources such as PSI's Accreditation Program, The Pet Sitter's WORLD magazine and PSI's annual Quest for Excellence Convention. PSI provides pet owners with The Pet Owner's WORLD magazine and thepetsitblog.com. For more information, visit http://www.petsit.com, home of the Official Pet Sitter Locator™ or visit the PSIStoreOnline to select from more than 2,000 pet sitter and pet owner products.
About FetchDog.com:
FetchDog was created to offer passionate dog people a place to find the highest-quality dog supplies, including dog beds and pet gates, credible advice on their dog's health and wellness, and an online community of fellow humans who love their dogs. More than just a shopping site, FetchDog.com has thousands of ad-free pages of deep information about health issues, training, behavior, breed selection, puppy care and dog adoption. Always current and fresh, FetchDog.com also has dog features and news stories, expert and celebrity blogs, world-class dog photography, games, videos and community-oriented centers for hundreds of dog breeds.
About BringPetsHome.org:
BringPetsHome.org is a non-profit animal charity that helps care for animals in shelters. Their mission is to support animals in shelters until they find permanent, loving homes. BringPetsHome.org offers pet lovers the opportunity to raise money for animal shelters simply by shopping online at their favorite merchants, and provides a platform to connect with other animal enthusiasts in the online community. BringPetsHome.org donates 100 percent of the money raised to animal shelters, helping homeless pets directly by paying for food, shelter and medical treatment.
About Dog Fancy Magazine:
Dog Fancy is the world's most widely read dog magazine. It is devoted to the care and enjoyment of all dogs – purebreds and mixed breeds alike. Every month it educates, enlightens and entertain its readers, providing them with engaging, accessible information they need to be responsible dog owners. Since its inception, Dog Fancy has inspired, informed and entertained readers with award-winning editorial. Features include expert advice on selecting the right dog, training, health and grooming
About Petfinder.com:
Petfinder.com is an online, searchable database of more than 300,000 adoptable pets from more than 12,000 animal shelters and adoption organizations across the United States, Canada and Mexico. Visitors can search by breed, age, size, gender and location to find the pet that fits their needs. Since it was founded in 1995, Petfinder.com has helped more than 12 million pets find permanent homes. Entirely ad supported and free to both shelters and users, Petfinder.com was named one of TIME magazine's 50 Best Web Sites of 2008.
Contact: Beth Stultz, Event Spokesperson
E-mail: beth(at) petsit.com
Phone: (336) 983-7747
Contact: Terry Chance, Marketing Director
Phone: (336) 983-2991
E-mail: terrychance (at) petsit.com
###