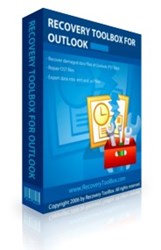 a powerful and affordable Outlook repair and PST fix solution from Recovery Toolbox.
Alexandria, VA (PRWEB) October 12, 2012
Corrupted Outlook PST files can now be fixed faster with the newly-updated Recovery Toolbox for Outlook, a powerful and affordable Outlook repair and PST fix solution from Recovery Toolbox. The program now features a brand new data analysis and extraction engine that minimizes the time and effort needed for completely restoring the contents of a damaged PST storage file.
The most recent release from Recovery Toolbox, Recovery Toolbox for Outlook is one the company's best selling products and one of the most functional, accurate and fast solutions of its kind. The newest version of the program is based on an entirely different PST fix engine that takes the program's efficiency to a new level. The very nature of the algorithm used allows nearly infinite future enhancements, which guarantees the increasing quality of data recovery in versions yet to be released.
"The problem of damaged PST files has always been very serious for all Outlook users," explains Victor Bobrov, one of the developers of the program. "Even the slightest corruption of the structure of the file renders all of its contents unreadable. And in communication-intensive business environments, temporary loss of access to email and other business records may have devastating consequences. Our PST fix tool is now better than ever, working like a charm in the overwhelming majority of data corruption situations."
Recovery Toolbox for Outlook supports automatic recovery of PST data into a single or multiple PST files of configurable size, conversion of OST files to the PST format and recovery of data into an array of MSG files, which enables users to restore data even if Outlook itself is not installed on their computers.
The new version of the program has the same low price as its predecessor, thus making it the most affordable and efficient Outlook recovery solution on the market
About Recovery Toolbox
Founded in 2003, Recovery Toolbox is currently the leading provider of data recovery tools for a broad range of programs. The growing portfolio of Recovery Toolbox consists of over 30 award-winning solutions intended primarily for mainstream applications used by millions of people worldwide. The company is committed to creating intuitive and user-friendly tools that help regular users solve complex data recovery and migration problems on their own.
Read more about the pst fix software: http://www.recoverytoolbox.com/fix_pst_file.html
Software site: http://www.recoverytoolbox.com
###