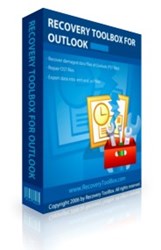 Recovery Toolbox for Outlook is efficient and easy file repair software, recovering MS Outlook folders in PST format.
Alexandria, VA (PRWEB) December 07, 2012
The service of PST repair, powered by Recovery Toolbox for Outlook, recovers damaged mailboxes in PST corresponding format and permits restoring even password-protected PST files. Besides its compatibility with any version of MS Outlook, this application also supports any encoding, such as UNICODE and ANSI. Users of Recovery Toolbox for Outlook start repairing PST files as soon as they install this utility by following its guidelines.
Users of Recovery Toolbox for Outlook consider this application to be the safest and the easiest method of PST repair that opens any file of MS Outlook supported format. The absence of compatibility problems allows starting this data recovery service on any PC in the network so users select a computer, not loaded with other tasks or more powerful to open large PST files.
Minimal system requirements of email recovery tool in use permits starting Recovery Toolbox for Outlook on any computer under MS Windows 98/…/Windows 7, all available versions of specified email client are supported. The network support of Recovery Toolbox for Outlook allows choosing any PC workstation for data recovery.
Recovery Toolbox offers data recovery tools and services for many file formats. Its history starts since 2003, actually it provides approximately 20 tools and services for file restoration. The headquarters of Recovery Toolbox is at: 901 N. Pitt str. Suite 325, Alexandria, VA 22314, USA
Official site, http://www.recoverytoolbox.com/, contains more information related to data recovery software and Recovery Toolbox for Outlook as well at http://www.repairoutlook.recoverytoolbox.com/.