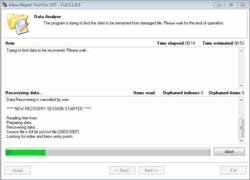 Discount 85% Coupon: XMAS85
Sacramento, CA (PRWEB) November 28, 2012
Inbox Repair Tool for PST from http://www.outlook-pst.com is an advanced Outlook email recovery and repair utility which requires no prior experience with recovering and repairing Outlook .PST format email files. Now, Microsoft Outlook users have a simple to install and use toolkit which is almost fully automated for identifying email errors and corruption in .PST files and automatically repairing the damage. The result is simple – Microsoft Outlook users now have a tool which will quickly identify what the problem is with a damaged or corrupted Outlook email and move to repair the problem so the data and underlying information is not lost.
Inbox Repair Tool for PST provides the ability to view damaged .PST files which Outlook itself is unable to open. You can use Inbox Repair Tool for PST to view Outlook files, whether damaged or not, when you do not have Microsoft Outlook itself.
In addition, Inbox Repair Tool for PST provides users with the ability to convert .PST files into other .PST versions. For instance, a .PST email file created in Outlook 2007 is not readable using Outlook 2003 – by using Inbox Repair Tool for PST you can quickly and simply convert the file into one which is usable by your current version of Microsoft Outlook.
Microsoft Outlook is the world's leading commercial email client, and the .PST file format is used for many different objects utilized within it. This includes not just the email messages themselves, but also objects such as notes, calendars, contacts and message attachments. Unfortunately, .PST files are prone to damage for a variety of reasons due to virus infection, hardware error and software instability. The good news is that users have a cheap and very simple tool for recovering and reading their Microsoft Outlook email files without the need for expensive recovery services and without the drama which is normally associated with losing valuable data stored in emails.
Read mote at http://www.outlook-pst.com/inbox-repair-tool-for-pst/ official site of PST Recovery Tool.