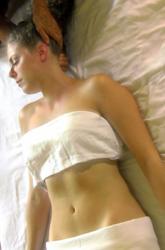 This is one of the best videos we've ever produced. I am very proud of our work!
Austin, TX (PRWEB) September 06, 2012
Top rated alternative health video channel PsycheTruth: Life Wisdom added three massage videos to its inventory of HD content featuring guru Athena Jezik who is one of the top massage experts on the internet.
With more than 175,000 subscribers and 187 million video views PsycheTruth is one of the top massage and alternative health video channels on Earth. Viewers from around the world have praised both PsycheTruth and Jezik for their quality massage videos.
Athena Jezik, a Licensed Massage Therapist who specializes in Lymphatic Drainage and Cranio-Sacral Therapy, has released more than 150 videos that have been viewed more than 10 million times. Her three latest videos include:
VIDEO 1: Back Massage How To Techniques Floor Work; Full Body Spa Therapy Athena Jezik PsycheTruth
VIDEO 2: Sitting Chair Massage Technique, How To Give A Back Massage
VIDEO 3: How To Give Neck Massage Therapy Tips & Techniques
Following are just a few of the rave comments these massage videos have received from happy viewers. Many of these videos are watched by people that comment or email PsycheTruth that they followed along and gave their wife, husband or girlfriend a massage while watching a video:
"Seriously think this was one of the most informative videos, for me personally, to date. As I'm not a professional and just doing this on family I have no table and no real massage chair, nice that you did this with just a normal chair!"
"Athena thank you very much for showing me how you intuitively work around the back depending on what you sense (which I know sometimes would change depending on what is going on and where the pain, trigger points, tensions are)."
"Once again, you have no idea how much I appreciate this video. It is amazing and, as always, very insightful. :) My little sister just woke up this morning with a terrible pain in her neck. She's only 9 so would it be alright if we went about the massage the same way? I would greatly appreciate the advice. I despise seeing my little sister in any pain."
"Absolutely wonderful video Athena. Thank you very much for this demonstration. I plan on practicing these techniques on my mother to help relax her. :) Once again, thank you very much. You have my greatest appreciation!"
"The timing for the releasing of this video is perfect! I'm doing Xrays tomorrow morning for my neck, and this helps me relax A LOT!"
"Wow! The video quality is awesome."
"Thank you for the idea but I am worried about joint pain so I think I am going to construct a lower chair height table with a removable platform for me to stand on so I can walk/work effectively around my clients. I currently have 30 weekly obese clients that have been referred to me by one of my clients who go to over eaters anonymous. I have an electric lift table but due to weight constrictions it does not work. It is so awesome that I am at a point where I am overworked and looking to expand."
"Watching these videos make me feel so relaxed… Thank you and please make more!"
"Athena is very relaxing: many people watch her videos to help them fall asleep."
"Another great video. I love just playing these in the background while working on my computer. The combination of Athena's voice with the music is incredibly relaxing."
"I love watching these video very insightful and interesting techniques. I'm starting my massage therapy program in a few weeks and I'm excited to learn so many techniques!"
"This helps me sleep!... If anyone ever wants to fall sleep, listen to her voice and the music. Sooooo soothing... When I watch these I can almost feel the massage. I get that tingly cool feeling up my neck that feels gooood."
"Corrina is a beautiful woman and these videos are awesome."
ABOUT PSYCHETRUTH
PsycheTruth: Life Wisdom is an online educational resource with high quality videos covering a variety of subjects including Wellness, Nutrition, Psychology, Alternative Medicine, Massage Therapy, Mental health, Fitness, Yoga, Exercise, Weight Loss, and more.
For more information visit the channel at http://www.youtube.com/psychetruth or email psychetruth(at)gmail(dot)com.