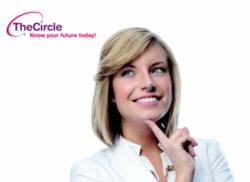 Whether this will be your first psychic reading or you have had many readings before, we look forward to personally welcoming you to TheCircle
London, United Kingdom (PRWEB UK) 8 May 2013
TheCircle has over 15 years' experience and is the leading, largest and most established telephone psychic service. There's over 300 hand selected and verified psychic readers to choose from – mediums, clairvoyants, tarot readers, astrologers and angel spiritualists, to name a few. TheCircle will be supporting the Show and will be exclusively providing visitors with the opportunity to have a psychic reading with one of their talented Readers
Why have a reading?
A psychic reading gives people the peace of mind when facing the obstacles of today's busy lifestyle!
If a person would want to find out when they will meet their true love? Talk to lost loved ones through trusted mediums. Looking for a little support and guidance in life? Find the answers with one of the gifted readers at TheCircle on stand K13
Come visit TheCircle at the show and meet some psychic readers, have a face-to-face reading and find out more about psychic services. At the same time, grab a goody bag and receive exclusive TheCircle offer of £20 for a 15 minute reading.
"Whether this will be your first psychic reading or you have had many readings before, we look forward to personally welcoming you to TheCircle" says Caroline King, Operations Director
Read about some of the wonderfully enriching experiences most customers have had: "I have regular readings with Donna at TheCircle. Donna isn't emotionally linked to my situation so can give clarity towards a broader picture of what's happening. Again I was sceptical but she gives me a low down of what's happening with other people and this helps me to deal with them too" - Michelle
A number of Live psychics will be on hand to provide instant, private and confidential guidance as well as answers to the questions that pose and explain how one can experience the same insight over trusted telephone psychic reading service.
About TheCircle:
Established in 1997. TheCircle is the UK's number 1 and most trusted psychic network with 15 years' experience in the psychic realm, specialising in quality telephone readings. With esoteric skills covering mediumship, clairvoyance, tarot, angels and astrology. As a result, we quickly became the UK's most trusted psychic reading service. Go to http://www.thecircle.com/uk/ or call us free on 0800 067 3550.