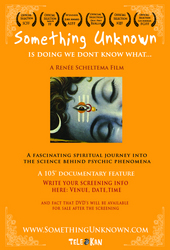 Hush, A portrait of Tracy Payne
Cape Town, South Africa (PRWEB) November 5, 2009
The award-winning documentary "Something Unknown is Doing We Don't Know What" will screen at the Santa Fe Film Festival next month, the filmmaker announced today. Directed by the journalism and criminology-educated Dutch filmmaker Renée Scheltema, the film explores some of the same psychic and paranormal concepts explored in this weekend's release of "Men Who Stare at Goats", a movie starring George Clooney and Ewan McGregor, and the recent break-away Dan Brown novel "The Lost Symbol."
"Something Unknown" challenges conventional science to demystify psychic and paranormal experiences by revealing scientific evidence that consciousness can influence the physical world. It uncovers decades of pioneering research conducted by governments, universities, and independent scientists to explore quantum physics principles that indicate humans are interconnected by energy fields and have extended capacities of consciousness that transcend time and space.
"Something Unknown will screen at the following festival times and locations:

Thursday, December 3, 5:45pm - "The Screen"
Saturday, December 5, 1:00pm - New Mexico History Museum
A panel discussion among scientists in the film, including physician and spiritual healing advocate Dr. Larry Dossey, follows the Saturday screening; 4 p.m. at the Santa Fe Hotel. Tickets are available online at http://santafefilmfestival.com/Tickets .
"A series of personal incidents that could not be explained by rational thought or coincidence inspired my quest to understand psychic events," said Scheltema. "No documentary had used straightforward scientific facts and research to clarify these experiences for people who have them or even question them."
Something Unknown is Doing We Don't Know What (105 min.), which takes its title from the uncertainty principle in modern physics, is available on DVD in both NTSC and Pal formats from the film's website. Priced at $24.95 for individual copies, discount packages are available for wholesale, universities, institutes, libraries, and community screenings. It is distributed in the United States by Beyond Word's publishing and is also available in select retail stores.
About the Film
"Something Unknown" takes viewers behind the lens of Scheltema's 10,000-mile journey to interview scientists, witness real lab experiments, and observe multi-cultural settings of spiritual healings. Along the way, she asks scientists to share their research and answer in plain talk the questions that haunt believers and skeptics alike: Can we predict the future? Can our thoughts and intentions affect the physical world? Can we be spontaneously healed from fatal illnesses? Do we have the power to read minds? Are we "energetically" connected? And where is the boundary between 'real' magical powers and fraud?
Exploring the "Big Five" psychic phenomena: Precognition, Telepathy, Remote Viewing, Psycho-Kinesis, and Spiritual Healing, Scheltema questions University of California professor emeritus of psychology, Charles Tart; University of Arizona professor of psychology, Dr. Gary Schwartz; parapsychologist and noetic scientist Dr. Dean Radin; British biologist, Dr. Dossey, Dr. Rupert Sheldrake; Dr. Roger Nelson, of the Global Consciousness Project. She also collects anecdotes from experts within their fields, such as Apollo astronaut Dr Edgar Mitchell, psychic detective Nancy Myer, mind-body-spirit author Arielle Ford, internationally known healer, Dr. Eric Pearl, and intuitive Catherine Yunt.
The film also investigates, the power of energy healing, remote viewing, psychic archaeology, faith healing, Random Number Generators, psychic detective work, therapeutic touch, and mind reading. Woven with intriguing personal accounts, it sheds light on the mysterious world of the paranormal, previously disregarded by mainstream Western science and concludes Scheltema's quest with a new understanding that science and spirituality may not be mutually exclusive.
About the Festival
The Santa Fe Film Festival presents important world cinema in a non-commercial context that represents aesthetic, critical and entertainment standards. The festival premiers New Mexico produced films, new American, and foreign independent film. Partnering with leading film industry companies, film educators, directors, producers, known actors, as well as other non profits, it provides a forum for filmmakers, critics, film enthusiasts and historians. The Santa Fe Film Festival is a 501(c)(3) non-profit organization.
About The Filmmaker
Renée Scheltema is a Dutch documentary filmmaker and photographer living in Cape Town, South Africa. For 25 years, Renée has worked for Dutch television as a director, producer and camera-person. Some of her documentaries, like "Hush, A portrait of Tracy Payne", "Seven Days in Burma", "The Death Penalty", "Portrait of A Zen Couple," "The Bus" were selected at international film festivals. She holds advanced degrees in journalism and criminology and a bachelor's degree in law. In 1996, she founded Telekan films.
###