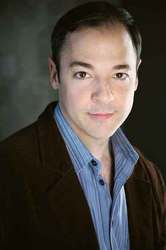 We obviously can't see the whole future. But we can see symbolic snapshots from it— which have correlations in our waking reality.
New York, NY (PRWEB) May 15, 2010
In the early 2000's, Derek Calibre was working hard at turning his struggling Honolulu ice cream company into a success. He never would have imagined a future for himself as a globe trotting psychic and author of a book on the nature of the psychic mind. But that's exactly what happened, and his new book, 'Can You Turn It Off?' tells the story of how that came to be.
Calibre had enjoyed some success in the ice cream biz. He had accounts with Neiman Marcus and Japan Airlines, recognition as one of Hawaii's fastest growing companies, even an award from the mayor's office. But then fate stepped in when his friend and business partner died, and the economy tanked. Calibre struggled at keeping the company afloat, and under mounting debt, he found himself in a deep career crisis.
Feeling lost, he turned to tarot cards for some direction. "I remember flipping them," he says, "and asking, Who am I? What is my talent? Where is my life heading?" Calibre recorded the card's messages in a journal. And what happened next amazed and baffled him. He began experiencing a curious stream of coincidences that could only lead him to believe his mind had somehow turned psychic.
"One day I flipped a card called Temperance which pictures an angel mixing fire and ice in a bowl. The psychic books recommend you talk to the characters in the cards. So I asked the angel, 'What do you have to say to me?' and she said, 'I am ice and I burn. See my flames?' I thought, what a bunch of crap. How can ice catch fire? The next day, my walk-in freezer burnt down. The defrost wires frayed and I found 500 gallons of ice cream melted across the floor. That's when I thought, wait, maybe there is something to this."
His curiosity piqued, Calibre recorded more thoughts from the cards, and noticed many of the ideas that came from them corresponded to his future reality. "I began doing readings for friends, then friends of friends. Next thing I know, I'm performing psychic readings for a living."
For several years, Calibre kept a diary of thoughts on how, when, and why his psychic impressions were coming to him. Each perception seemed to reveal something about the nature of the psychic mind.
He noticed that even the simplest of his psychic visions could turn out to be significant— by virtue of appearing, say, where an opportunity presented itself or, around someone making him an offer. "We obviously can't see the whole future," he says. "But we can see symbolic snapshots from it which have correlations in our waking reality. They're like signposts on the path toward our goals."
Written in a diary format over the course of five years, Calibre's accounts are intricately magical. A meditative journey, five hundred years into the past, plays out later that same day in a Chinese restaurant. A New York client's vision of a spirit guide appears several hours later, on stage on Broadway. "I wanted to share how fun and rewarding it can be to engage with the psychic mind. We're more clever than we know. We just have to be observant enough to see it."
Calibre hopes his book will help demystify the psychic experience and provide a practical reference point for those interested in developing their own psychic ability. "My book is written from the perspective of a guy who, at first, isn't expecting anything psychic to be happening to him. The reader sees how he becomes a student of the process, and learns as he goes."
Calibre believes everyone has a psychic aptitude; that people are more likely to awaken to their Inner Psychic during times of change. He suggests that those reading his book could be opening a channel to begin experiencing their own psychic coincidences. He says, "Once you draw your attention to the psychic mind, it gives its attention back to you."
For those afraid of tuning into catastrophes or meeting dark spirits, Calibre has an antidote: Humor. "The psychic realm is like television," he says. "Tune in to a comedy and you won't want to turn it off!"
About Derek Calibre
Derek Calibre has worked as a professional psychic since 2004 in New York, Tokyo and Honolulu. He has been featured on CNN, NBC News 8's Psychic Hawaii, and Comcast, where he hosted a show called Psychic Workshop on Video On Demand. Derek lives and works in Manhattan.
For information: http://www.derekcalibre.com
guidance(at)derekcalibre(dot)com
646-351-6159
# # #