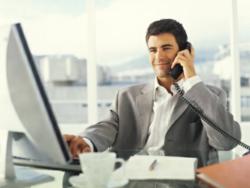 There is no longer a typical client; psychic readings for business and career advice have increased this year.
Mansfield, Nottinghamshire (PRWEB UK) 5 December 2012
The effect of the economic downturn has had an unexpected positive effect on the world of psychic readings with more and more professionals turning to online psychic, Elizabeth Rose, of Moon Predictions, for readings about business and career advice.
Moon Predictions is a family run online psychic readings company based in the Midlands. Psychic reader and clairvoyant, Elizabeth Rose, has seen a rapid growth in professionals seeking readings from many different professions in the last 12 months including: doctors, dentists, lawyers, actors, authors, famous people and many more.
Elizabeth Rose, company owner and founder explains: "People who come to us for a clairvoyant reading are placing much more emphasis on jobs and careers than ever before.
"Since the start of this year, there is no longer a typical client. Not only has there been an increase in professionals seeking work and career related advice, but there's also been a steady increase in the number of male callers as well seeking clairvoyant readings."
Elizabeth Rose comes from a long line of natural clairvoyants and psychics. Having originally trained and worked as a midwife, Elizabeth Rose chose to pursue psychic readings as a full time career over 20 years ago. Since that time she's built up a well earned reputation having appeared on national television, radio and advised in a consulting capacity on television documentaries on psychic abilities; all of which have added to her increasing popularity and well earned reputation for quality psychic readings.
As well as the increase in male callers and professionals, Elizabeth Rose has also seen as increase this year across all ethnic areas with people from many backgrounds and religions coming to her for psychic predictions.
Despite the business expanding rapidly during the last six months, Elizabeth Rose is keen to portray the personal touch that everyone gets. As well as readings from Elizabeth Rose, she employs a growing team of experienced readers too.
Adds Elizabeth: "All our readers are handpicked and trained by me. They are chosen for their unique skill sets they bring and it matters to me that callers speak to a reader that is most suited to them.
"All too often competing online psychic companies are faceless, with automated systems putting clients through to readers, but we are different and that's how we want to stay."
With an established reputation, growth has not only increased in the UK, but from many countries all over the world. The internet has opened up new opportunities for clairvoyant readings. Many of Elizabeth Rose's clients come from abroad with a lot of international clients choosing a UK reading over a reading in their native country.
"Every year we have repeat business for psychic readings from many countries. This year these have expanded to: Australia, Canada, Hong Kong, India Dubai to name but a few." Concludes Elizabeth.