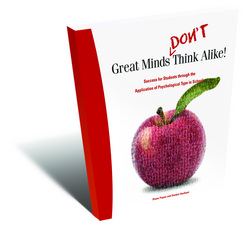 a clearly written, concise manual that enables teachers to identify and address the differing cognitive styles of their students.
Gainesville, FL (PRWEB) February 1, 2010
All students are not the same, but school curriculums are often designed as if they are. In Great Minds Don't Think Alike teachers, administrators, and parents will find a comprehensive manual on how to bring success to all kinds of students through the application of psychological type in schools.
In this well-researched and referenced guide to differentiated instruction, veteran educators Diane Payne and Sondra VanSant provide "a clearly written, concise manual that enables teachers to identify and address the differing cognitive styles of their students." Published by CAPT and arranged as a "how-to" guide, the book provides unique instruction for meeting the needs of each child, including methods for personalizing instruction and the learning environment, and unique approaches for team collaboration, decision making, and conflict management.
Dramatic changes have occurred in education in the last decade. Charter schools have emerged as alternatives to traditional public schools, homeschooling is growing at a rapid rate, and classroom demographics have shifted significantly as schools accommodate an array of students for whom English is a second language. Great Minds Don't Think Alike provides engaging and practical solutions for fostering success in all children, in any environment.
The authors provide an introductory yet comprehensive look at the basics of personality type and the included Resources CD ROM provides a wealth of leader's guides and handouts that support many of the lesson plans and case studies presented. Each chapter of the book includes multiple summaries, a self-assessment for readers to check their understanding of the concepts presented, and tips for getting started in the classroom.
Some of our greatest thinkers make illustrative appearances in the book, including Einstein, Aristotle, Earhart and Caldecott, demonstrating and reinforcing the value of diversity in the highest standards of educational thought and action. Presenting these richly varied paths to success allows students to take responsibility for their choices, and yields a love of learning that will stay with them for life.
The section on introducing type in schools is especially helpful for instructors as they navigate formal and informal opportunities for bringing type applications into the learning process, including interactions with students, parents, and administrators.
For information about Great Minds Don't Think Alike, visit http://www.capt.org or call 800.777.2278.
About CAPT: The Center for Applications of Psychological Type (CAPT) is a not-for-profit organization founded by Isabel Myers and Mary McCaulley in 1975, offering training, educational materials, and cultural, team, leadership, and Jungian assessment tools to consultants, trainers, counselors and individuals for self-growth, career development, and improved relationships. CAPT is the publisher of the Murphy-Meisgeier Type Indicator for Children® (MMTIC®), a self-report assessment developed to measure psychological type preferences in children.
###