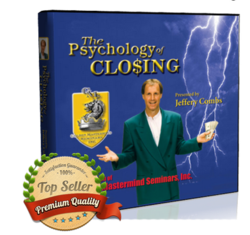 This Digital Package also includes $484 worth of special bonuses if purchased by August 19, 2012.
Stockton, CA (PRWEB) August 18, 2012
For the first time ever, Jeffery Combs is making available in digital format his highly acclaimed 'Psychology of Closing' program, in which Jeffery teaches the skills required to create multiple seven-figure income results and become a Master Closer! This Digital Package also includes $484 worth of special bonuses if purchased by August 19, 2012. For more information about this special offer, please visit here.
In addition to the 7 hours of audio on how to close sales, the Special Digital Package of the Psychology of Closing Program also includes some special bonuses:

Audio CD '7 Steps to 7 Figures'
25 of Jeffery's Millionaire Video Tips
60 minute free closing mastermind call with Jeffery Combs
15 minute personal, 1 on 1 coaching call with Jeffery Combs
Becoming a master closer is much more than just asking for the sale. Closing is a process and to get good at it, the sales person must focus on trial closes that lead with caring questions and get their customer to say yes over and over. People expect leadership and they want to be led. This is why Jeffery Combs is the perfect person to learn about closing sales from.
To read the Psychology of Closing Review, please click here.
"To be a master closer, you have to be very skilled at the art of closing," says Jeffery Combs. "And closing sales is all about the attitude. Closing isn't asking for the sale at the end of the presentation. It's about asking clearly defined questions, becoming a master connector, a master persuader, and being able to master your own emotions. This unprecedented digital package will greatly assist you with developing these skills."
Jeffery Combs has coached more than 7,000 business professionals and logged more than 65,000 hours of one on one coaching in his career. In this special digital package, he provides more than 7 hours of training on how to master the art of closing.
While the combined ala carte value of these items are is $484, the Psychology of Closing Digital Program will be available until Sunday, August 19, at 11:59pm PST, for only $47 at http://www.jefferysgoldenplan.com/psychology-of-closing-bonuses