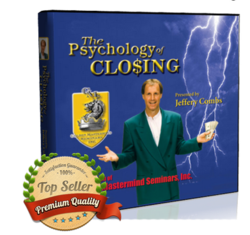 He (Jeff Combs) is an exceptional coach. I endorse his product, the Psychology of Closing. Plus, with the $450+ worth of free bonuses he's including, you'll regret failing to take advantage of this one time opportunity by Sunday night. - Curt Maly
Stockton, CA (PRWEB) August 19, 2012
Sales and Closing Expert Jeffery Combs is closing the doors on his highly acclaimed 'Psychology of Closing Digital Package', which includes more than 7 hours of his audio training as well as more than $480 in other bonuses, Sunday, August 19, 2012, at 11:59 pm PST. To purchase the 'Psychology of Closing Digital Package with the bonuses for only $47, please visit here.
In addition to the 7 hours of audio on how to close sales, the Special Digital Package of the Psychology of Closing Program also includes some special bonuses:

Audio CD '7 Steps to 7 Figures'
25 of Jeffery's Millionaire Video Tips
60 minute free closing mastermind call with Jeffery Combs
15 minute personal, 1 on 1 coaching call with Jeffery Combs
Becoming a master closer is much more than just asking for the sale. Closing is a process and to get good at it, the sales person must focus on trial closes that lead with caring questions and get their customer to say yes over and over. People expect leadership and they want to be led. This is why Jeffery Combs is the perfect person to learn about closing sales from.
"Jeffery Combs is an author, International Speaker, entrepreneurial coach, and sales & closing expert who has logged more than 60,000 hours coaching sales professionals in his career," says Curt Maly, Co Founder of Black Box Social Media, an online marketing company that utilizes the latest digital marketing strategies. "He has mentored me personally for more than 5 years. He is an exceptional coach. I endorse his product, the Psychology of Closing. Plus, with the $450+ worth of free bonuses he's including, you'll regret failing to take advantage of this one time opportunity by Sunday night."
While the combined ala carte value of these items are is $484, the Psychology of Closing Digital Program will be available until Sunday, August 19, at 11:59pm PST, for only $47. Click here to order: http://www.jefferysgoldenplan.com/psychology-of-closing-expires