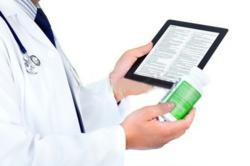 With EMR, records are stored in the "cloud" or a healthcare database from which a physician can easily access a new patient's previous records.
Denville, NJ (PRWEB) April 26, 2013
Before a new eave of technological advances, offices were forced to rely on paper medical records, handwritten, and susceptible to casualty or loss. These boxes and file cabinets filled back rooms of physical therapists' offices. If the documents remained safe in the office, they were still at risk of being read by an individual who could compromise the patient information.
Now a new era of medical records has arrived: EMRs, or electronic medical records. It's streamlined every facet of the healthcare practice, and no longer forces offices to rely on paper records. "EMR facilitates office processes, expedites revenues and enhances the quality of client care," physical therapist and marketing expert, Nitin Chhoda said.
New Flow of Communication
Physical therapist and other private practice offices used to manage the postal system and copier to transfer information to other practices. The ability to fax records helped speed up the process but it still took time. If a patient relocated for employment or family, the patient's medical records had to be transferred as well, a cumbersome practice that could take weeks or months of sorting, copying, billing for copies, and mailing. With EMR, records are stored in the "cloud" or a healthcare database from which a physician can easily access a new patient's previous records. EMR also allow doctors and physical therapists to coordinate treatment of their mutual patients, and the information is updated immediately.
Cost-Saving Procedure
According to Chhoda, paying an employee to keep medical records can cost a physical therapist or provider up to $15.00 hourly. With new EMR software, medical records are kept easier and faster, and readily accessible to any individual in the office with the touch of a button
Improved Physical Therapy Documentation for Third Parties
In the days before a more advanced technology, retrieving physical therapy documentation was a tedious practice. Insurance agencies were forced to rely on photocopied records or faxed copies. This delay in processing slowed the entire system. Personal injury attorneys had to retrieve a signed HIPAA from a patient, and then individually contact each medical provider for patient records for legal analysis. Now with EMRs, attorneys can simply fill out a request form, and have the information provided within a few a days.
Streamlined Billing Practice
In the pre-EMR days, physical therapist billing used to be a shaky process at best. Providers had to submit individually to each insurance agency, and await the results. Few patients had insurance and if treatment was covered by a government agency, the waiting time doubled. Income was precarious due to the long response time. Now EMRs allow physical therapist and other providers to bill with a few clicks, and insurance agencies are instantly notified with invoices. Gone are the days of billing via mail for insurance and individuals, now payment processing is available online.
EMRs open a new of communication and billing for patients, insurance agencies, and third parties. In the evolving body of healthcare, electronic medical records improve the treatment of patients with up-to-date information. As more providers embrace technology, EMRs are available on tablets and mobile phones, for instant consultation.
Chhoda's office can be reached by phone at 201-535-4475. For more information, visit the website at http://www.emrnews.com.
ABOUT NITIN CHHODA
Nitin Chhoda PT, DPT is a licensed physical therapist, a certified strength and conditioning specialist and an entrepreneur. He is the author of "Physical Therapy Marketing For The New Economy" and "Marketing for Physical Therapy Clinics" and is a prolific speaker, writer and creator of products and systems to streamline medical billing and coding, electronic medical records, health care practice management and marketing to increase referrals. He has been featured in numerous industry magazines, major radio and broadcast media, and is the founder of Referral Ignition training systems and the annual Private Practice Summit. Chhoda speaks extensively throughout the U.S., Canada and Asia. He is also the creator of the Therapy Newsletter and Clinical Contact, both web-based services to help private practices improve communication with patients, delivery better quality of care and boost patient retention.