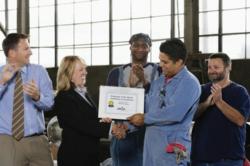 It is nothing short of incredible how easy it is to use the website, but its simplicity is only one of its highlights.
Denville, NJ (PRWEB) February 05, 2013
Chhoda, a licensed physical therapist and international private practice marketing expert, is one of the first in the nation to utilize EMR technology which makes him no amateur when it comes to going through the long and arduous task of evaluating a new EMR system. Chhoda's system breaks down the attributes offered by physical therapy software and focuses on the most important components such as privacy and security, customization, electronic billing, web-based portability, communication, patient portal, online training, and customer care.
"This melds weld with the functionality of emrnews.com. It is nothing short of incredible how easy it is to use the website, but its simplicity is only one of its highlights. Its most notable attribute is the constant updates on marketing techniques for therapists, its news feeds on medical billing companies, physical therapy software, documentation and management as well as EMR Systems and which is best for you and your business," Chodda added.
EMR systems are becoming one of the most powerful tools in the office of physical therapists around the world today. Keeping up to date on the latest technology available is paramount to maintaining a high level of efficiency in today's typical clinic. Chhoda has simplified the process of switching with the creation of this website. Every physical therapist can benefit from the knowledge shared within the categories of the site. Whether searching for information on physical therapy billing, physical therapy scheduling software, or just the physical therapy documentation software, this website has exactly the things that therapists are looking for.
Chhoda's office can be reached by phone at 201-535-4475. For more information, visit the website at http://www.emrnews.com.
ABOUT NITIN CHHODA
Nitin Chhoda PT, DPT is a licensed physical therapist, a certified strength and conditioning specialist and an entrepreneur. He is the author of "Physical Therapy Marketing For The New Economy" and "Marketing for Physical Therapy Clinics" and is a prolific speaker, writer and creator of products and systems to streamline medical billing and coding, electronic medical records, health care practice management and marketing to increase referrals. He has been featured in numerous industry magazines, major radio and broadcast media, and is the founder of Referral Ignition training systems and the annual Private Practice Summit. Chhoda speaks extensively throughout the U.S., Canada and Asia. He is also the creator of the Therapy Newsletter and Clinical Contact, both web-based services to help private practices improve communication with patients, delivery better quality of care and boost patient retention.