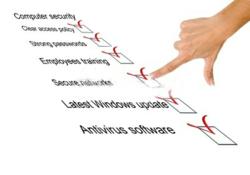 Physical therapy management software should be HIPPA-compliant and include a patient portal, electronic billing, and the ability to import notes and other documents.
Denville, NJ (PRWEB) August 18, 2012
"A lot of vendors will tell you that their software won't affect the way you conduct business," said Chhoda, "but the very act of implementing an EMR will change the way reimbursement claims are submitted, documentation prepared and communication with patients. The good news is that there are steps you can take to make the entire process easier."
Determine the needs of the clinic
Physical therapists have specific documentation needs and an EMR will affect every facet of the practice. Chhoda advised clinicians to determine the needs of their practice and what they want the EMR to accomplish. Due diligence is encouraged to choose an EMR for physical therapy services. Most EMR systems were created with hospitals and physicians in mind. Assembling a team to make a plan, establish goals and set a realistic deadline for implementation will facilitate the process.
Anticipating problems
Implementing physical therapy software represents a significant undertaking. Accept that there will be glitches and problems until everyone in the clinic is familiar with the system. Providing sufficient training for staff members will go far in reducing errors. Listening to staff feedback will help therapists address problems as they arise and improve the system. Options of these softwares can be seen here.
Flexibility and customization
Chhoda emphasized that an integrated EMR for a physical therapy practice should offer the flexibility to create custom documents to reflect the clinic's methods and procedures, and enhance the office workflow and patient care. An EMR is a long-term investment that should encompass the ability to grow along with the practice.
Essential components
Since their initial introduction, EMRs have evolved to include a wide variety of functionalities, http://www.emrnews.com/cpt-codes-from-the-medical-coder-perspective/, but Chhoda warned therapists against becoming so enamored of the advertised features that they lose sight of the essential components of a quality EMR. Physical therapy management software should be HIPAA-compliant and include a patient portal, electronic billing, and the ability to import notes and other documents. Click here to know more about HIPAA. Web-based system provides access from any location equipped with an Internet connection for portability.
Upgrades and support
The field of physical therapy is constantly changing, as are the rules and regulations governing patient care and billing requirements. Chhoda advised therapists to ensure their choice of EMR provides automatic updates and upgrades to reflect changes in healthcare laws, along with 24/7 support.
As the deadline for physical therapy documentation software approaches, many therapists may be tempted to select the first EMR they review, thinking any EMR is better than none. Chhoda's five new tips provide therapists with the essential information and functionalities required to take them smoothly into the 21st century of office and patient management with an EMR.
Chhoda's office can be reached by phone at 201-535-4475. For more information, visit the website at http://www.emrnews.com.
ABOUT NITIN CHHODA
Nitin Chhoda is a licensed physical therapist, a doctor of physical therapy, and a certified strength and conditioning specialist. He's the author of "Total Activation: The New 5 Step Fitness Mantra" and "Marketing for Physical Therapy Clinics." He's been featured in numerous industry magazines, major radio and broadcast media, and is the founder of Referral Ignition training systems, Private Practice Summit, the Private Practice Formula and the Private Practice Mastermind group. Chhoda speaks extensively throughout the U.S., Canada and Asia. He's the creator of the Therapy Newsletter, along with Clinical Contact, a web-based service that boosts patient arrival rates.