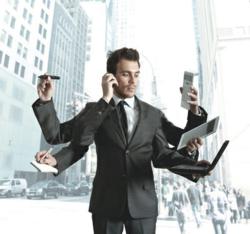 Incentive programs can be conducted via an EMR that rewards staff for superlative performance and productivity.
Denville, NJ (PRWEB) December 18, 2012
"One of the abilities of a physical therapy-based EMR is that it provides a variety of information that practice owners can utilize to determine their staffing needs," said Chhoda. "The primary advantage of an EMR is superior documentation for better patient outcomes, but they contain the tools to accomplish much more and one of those is determining staffing requirements."
Clinics must maintain a steady of flow of patients to remain profitable, but the practice will suffer if all staff members aren't working at peak productivity. EMRs have the ability to track staff members in a variety of areas, from when they begin work and the length of their breaks to the time it takes to perform each treatment and task and the amount of off time they request.
Chhoda noted that practitioners can utilize that information to track patient trends and schedule staff to meet changing demands. Data demonstrates if the practice is carrying too many employees compared to patient numbers, and if downsizing staff is an option that should be examined. The figures offer key statistics for practitioners, providing them with information on optimal times for expansion.
An EMR has the ability to automate tasks traditionally handled by employees for additional savings, such as contacting clients with appointment reminders and balances owed. Incentive programs can be conducted via an EMR that rewards staff for superlative performance and productivity.
An EMR encompasses a wealth of functionalities that can be utilized to manage staff in any physical therapy practice. Chhoda's new information demonstrates the many ways clinicians can save money and increase productivity with their EMR, allowing them to expand and grow as opportunities are presented.
Chhoda's office can be reached by phone at 201-535-4475. For more information, visit the website at http://www.emrnews.com.
ABOUT NITIN CHHODA
Nitin Chhoda PT, DPT is a licensed physical therapist, a certified strength and conditioning specialist and an entrepreneur. He is the author of "Physical Therapy Marketing For The New Economy" and "Marketing for Physical Therapy Clinics" and is a prolific speaker, writer and creator of products and systems to streamline medical billing and coding, electronic medical records, health care practice management and marketing to increase referrals. He has been featured in numerous industry magazines, major radio and broadcast media, and is the founder of Referral Ignition training systems and the annual Private Practice Summit. Chhoda speaks extensively throughout the U.S., Canada and Asia. He is also the creator of the Therapy Newsletter and Clinical Contact, both web-based services to help private practices improve communication with patients, delivery better quality of care and boost patient retention.