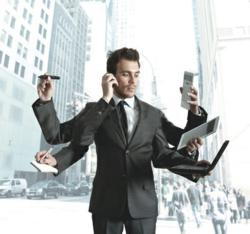 An EMR has the tools to identify the insurance agencies and payers that provide the best reimbursement rates.
Denville, NJ (PRWEB) January 20, 2013
"Each patient has a cycle of revenue attached to them that begins when they make their first appointment and ends when they have a zero balance," said Chhoda. "It's imperative that therapists gather essential data during the client's initial contact, especially their insurance information. An EMR provides the means to accomplish that task, along with verifying coverage, identifying any treatment limits or caps, and determining co-pays."
Chhoda said establishing insurance information is one of the most important aspects of managing patient revenue cycles. An EMR will use that data for submitting billing and coding information electronically to substantially reduce reimbursement denials, rejections and questions. He said therapists have approximately $25 invested in each rejection or denial and an EMR reduces the number of questioned claims to almost zero.
An integrated EMR system provides additional benefits that include tools to track claims, disputes and denials, and immediately notify therapists if an instance does occur. Practitioners can submit additional documentation in a matter of minutes to facilitate a resolution. An EMR has the tools to identify the insurance agencies and payers that provide the best reimbursement rates.
The patient portal in an EMR offers a wide range of convenient options for clients that assists clinics in boosting revenues. Patients can have co-pays and balances deducted from debit and credit cards, or subtracted directly from their checking or savings accounts. Chhoda noted that the service is available 24/7 to collect one-time or recurring payments and works even if the clinic is closed.
With Chhoda's new information on the many tools and customization options available with an EMR, it's easy for practitioners to manage patient revenue cycles. EMRs combine real-time electronic reimbursement submissions, enhanced billing and coding availability, and the ability to collect funds from multiple sources any time of the day or night. The systems offer a convenient and effective single resource for managing all aspects of patient payments and identifying the best payers for a financially secure practice.
Chhoda's office can be reached by phone at 201-535-4475. For more information, visit the website at http://www.emrnews.com.
ABOUT NITIN CHHODA
Nitin Chhoda PT, DPT is a licensed physical therapist, a certified strength and conditioning specialist and an entrepreneur. He is the author of "Physical Therapy Marketing For The New Economy" and "Marketing for Physical Therapy Clinics" and is a prolific speaker, writer and creator of products and systems to streamline medical billing and coding, electronic medical records, health care practice management and marketing to increase referrals. He has been featured in numerous industry magazines, major radio and broadcast media, and is the founder of Referral Ignition training systems and the annual Private Practice Summit. Chhoda speaks extensively throughout the U.S., Canada and Asia. He is also the creator of the Therapy Newsletter and Clinical Contact, both web-based services to help private practices improve communication with patients, delivery better quality of care and boost patient retention