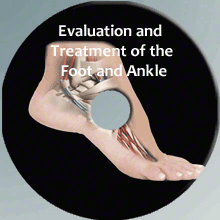 This PT online continuing education course for physical therapists, will deliver what their text book may have failed to explain, and how biomechanics of the foot can create symptoms from the foot to the lumbar spine
Franklin, TN (PRWEB) March 31, 2014
Evaluation of the Foot and Ankle is a new PT Online Continuing Education Course from North American Seminars. Physical Therapists will learn how to perform an effective differential diagnosis process for foot and ankle problems. In addition this online continuing education course for physical therapists, will deliver what their text book may have failed to explain, and how biomechanics of the foot can create symptoms from the foot to the lumbar spine
The DVD and PT online continuing education course will allow the physical therapist, occupational therapists and physical therapy assistant to receive continuing education credit in their state of licensure. Once the DVD and online home study is purchased, the therapist haas immediate online access to all the course material and high quality digital movies. There is no need to wait for the DVD to arrive. Once the DVD arrives the therapists can choose to watch the program on their computer or TV and then return online to take the online test.
PT Online Continuing Education Course Objectives
Upon completion of this course the participant will be able to:

Properly perform and interpret the findings of the biomechanical screen to assess if a foot evaluation is necessary.
Utilize goniometric skills to measure tibial angle, axis of inclination of the subtalar articulation, inversion, eversion, dorsiflexion in STJN and gross dorsiflexion.
Perform open chain muscle testing and accessory motion of the foot and ankle.
Identify the weak musculature of the foot and ankle while performing a manual muscle testing.
Properly assess accessory motion of the longitudinal midtarsal joint, oblique metatarsal joint axis and the midtarsal joint.
Differentiate plantar fasciitis, fasciosis, fat pad atrophy, entrapment of the first branch of the lateral nerve and other causes of heel pain by utilizing hands on skills and testing.
Perform a lower extremity biomechanical assessment pre and post corrective orthotics.
Understand how to make orthotic casts via a partial weight bearing foam crush box and a negative suspension slipper casting technique.
Develop a comprehensive program for a biomechanical examination and functional treatment approach for the foot and ankle for a variety of diagnoses.
This online course for physical therapy continuing education is approved in the CA, IL, OR, WA, MT, UT, AK, IN. Visit http://www.healthclick.com/courses/nas280.php for an up to date approval list. This course is applicable for physical therapists and physical therapy assistants and delivers 12 hours of CME credit.