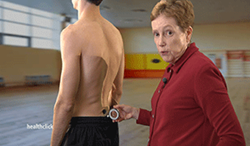 Build your knowledge of the top treatment protocols for the post surgical spine patient with this exciting online/DVD continuing education course.
Franklin, TN (PRWEB) July 28, 2015
Carol McFarland, PT, PhD, OCS focuses entirely on treatment of the post surgical spine patient with discussion and demonstration of specific rehabilitation exercises and treatment protocols in the PTA OT PT Continuing Education Course. Gain insight into the actual surgical process with an extensive interview conducted by Carol with a board certified neurosurgeon. Specific case studies are discussed focusing on kyphoplasty, vertebroplasy, artificial disk replacement, lumbar spine fusion and lumbar laminectomy for spinal stenosis.
Here are the objectives of this Online PT CME Course on the Post Surgical Spine

Understand and be able to perform the exercises used for spine stabilization in the post surgical spine patient
Create a balance routine for retraining proprioception and muscle control in the lower extremities
Integrate exercise bands into appropriate exercises routines in order to intensify the affect on targeted muscle groups.
Perform interim testing to assess rate and path of program progression, as well as provide quantitative information for the physician and insurance provider.
Develop a post surgical Cervical spine stabilization exercise program
Build a comprehensive exercise program that both stabilizes and strengthen key muscle groups in the post surgical spine patient
Explain the use of spinal surgical procedures such as lumbar microdiscectomy, kyphoplasty and vertebroplasty, artificial disk replacement and anterior cervical fusion.
This exciting video based online continuing education training course features:
The Surgeon's Perspective

Introduction to the interview with Dr. Charles Gordon, Board certified neurological surgein
After a lumbar microdiscectomy, do you feel the annular wall is vulnerable, and if so for how long?
How do you determine if a patient needs a microdiscectomy vs a laminectomy?
Are there other procedures for spinal stenosis that are less invasive than lumbar laminectomy?
When are lumbar fusions indicated in place of non fusion procedures?
How do you decide on the approach of a fusion, anterior vs posterior, and how do you decide on the need to do interbody fusion vs a posteriorlateral fusion?
What is your opinion about bone augmentation, bone stimulators or bone growth substances, and do you feel they are important?
Regarding total disc replacements: who are the candidates for these procedures?
Do you feel that the anterior approach to the total disc replacement is an advantage or not?
Are there particular precautions we should observe with therapy following a total disc replacement?
With a total disc replacement (lumbar or cervical), is it possible to remove the prosthesis is there is a problem?
Anterior cervical discectomy and fusion: description of the surgery
Anterior cervical fusion: reason for use of anterior plate fixation
Kyphoplasty and vertebroplasty: surgeon's opinion on benefits of these procedures vs conservative care for compression fractures
Stem cell research for spine procedures
DNA analysis of patients regarding genetic spine disorders
Treatment of the Post Surgical Spine - Spine Stabilization Exercises

Introduction to Burke, Phelps and Sizer functional spine stabilization program and some example exercises
Basic segmental stabilization: alternate arm reach from Burke, Phelps and Sizer
Squat with arms ups from Burke, Phelps and Sizer
Standing hip abduction for balance and postural strengthening
Standing hip extension for balance and postural strengthening
Heel raises for balance and endurance, combined with postural cuing
Static lunges demand rotary stabilization and balance
Lunges with forward step as a progression for strength, balance and rotary stabilization
Wide base squat with alternate heel raise to target soleus as well as spine and hip stabilizers
Balance routine: 4 different movements with single leg support challenge balance, endurance and posture
Standing traditional vestibular exercises that are helpful for spine stabilization, postural strength, and balance
Using exercise loop to increase intensity of stabilization exercise: hip abduction example
Using theraband loop to increase intensity of stabilization exercise: targetting hip extensors, then hamstrings
Treatment of the Post Surgical Spine Patient - Testing for Spinal Stabilization

Interim Testing System for Spinal Stabilization: Hip extensor endurance with bridging
Interim Testing System for Spinal Stabilization: Abdominal testing maintaining neutral spine
Interim Testing System for Spinal Stabilization: Abdominal testing using curl ups with Saal protocol
Interim Testing System for Spinal Stabilization: Quadruped testing for back extensor endurance, as well as confirming segmental stabilization capability
Treatment of the Post Surgical Spine Patient - Spine Stabilization and Mobilization
Cervical spine stabilization exercises: segmental and global stabilization exercises
Work for recruitment of posterior shoulder girdle for postural strengthening: scapular adduction using unilateral then bilateral shoulder horizontal abduction or extension
Work for recruitment of posterior shoulder girdle for postural strengthening: lat pulldown
Opposing tricep extensions combined with crown up posture for spine stabilization
Bridging exercise using the gymastic ball
Side plank exercises using gymnastic ball
Example prone exercises for spine stabilization using gymnastic ball
Thoracic extension and scapular muscle control work in chair: 1) scapular depression with upper shoulder girdle stretch; 2) thoracic extension self mob; 3) scapular depression/ adduction using chair back resistance
•Seated hamstring stretch with attention spine posture
•Seated hip rotator stretching
•Seated trunk flexion stretch to help patients reduce lumbar spinal stenosis symptoms
•Standing hip flexor stretch
The Post Surgical Spine Case Studies

Therapist findings after lumbar microdiscectomy
Therapist findings after lumbar laminectomy for spinal stenosis
Working with patients in the hospital after lumbar spine fusion, part 1
Working with patients in the hospital after lumbar spine fusion, part 2
Working with patients in the hospital after lumbar spine fusion, part 3
Artificial disc replacement (ADR), also known as total disc replacement
Artificial disc replacement (ADR), also known as total disc replacement, part 2
Description of our recent clinical trial of early PT intervention for anterior cervical fusion
Kyphoplasty and vertebroplasty need for follow up
Testing to justify therapy need, after kyphoplasty and vertebroplasty. Suggested program components
This course is pre-approved for continuing education for physical therapists and occupational therapists in AK CA CO CT DE GA HI IA ID IL IN KS MA ME MO MS MT NC ND NE NH NY OR RI SC SD TN UT VA VT WA WI WY
This course is pre-approved for occupational therapists in AK AL AR CA CO CT DC DE FL GA HI IA ID IL IN KS KY LA MA MD ME MI MN MO MS MT NC ND NE NH NJ NV NY OH OK OR PA RI SC TN TX UT VA VT WA WI WV WY