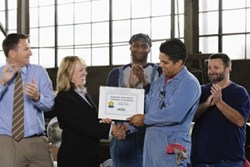 Time stamps offer valuable documentation about the time each staff member invests in the client, beginning when patients arrive at the office and concludes when they depart.
Denville, NJ (PRWEB) September 20, 2013
"There are clinics that expedite patient appointments," said Chhoda, "but we also heard about practices that demonstrate a complete lack of respect for clients, keeping patients waiting for an hour or so. This type of treatment creates dissatisfied patients that will happily take their business elsewhere and tell everyone they know about their ill treatment. There is an EMR system which has a number of tools to monitor and track staff productivity so that this type of situation doesn't happen."
He noted that time theft occurs in many forms and some time-wasting activities aren't so obvious. Those staff that may be sending text messages, checking email, making personal phone calls, playing computer games and surfing the web are easy to hide. Other time wasters are more noticeable. Staff may not be working to their full potential, while others come in a few minutes late, leave early and take extended breaks.
Time and date stamping are some of the electronic medical record software system capabilities that provide clinicians with an accurate means of ascertaining when staff begin work, return from breaks and leave in the evening. Time stamps offer valuable documentation about the time each staff member invests in the client, beginning when patients arrive at the office and concludes when they depart. Some EMRs offer an option that includes a copy of a handwritten signature for each clinic member.
According to Chhoda, there are also some instances that wasting time may be unintentional especially if the staff hasn't been trained in proper procedure or the most efficient means of accomplishing their tasks. EMR technology allows practitioners to identify staff members with impaired productivity. He added that with the use of time stamps, clinicians may discover that they can operate their practice more effectively and efficiently with fewer staff.
The integrated EMR physical therapy software system that is equipped with a date and time stamp presents an easy means of ascertaining which staff members are deliberately wasting time and those who do so by working inefficiently. Chhoda's new EMR solutions help clinicians discover sources of time wasting within their practice and determine optimal staffing requirements for a financially strong practice.
Chhoda's office can be reached by phone at 201-535-4475. For more information, visit the website at http://www.emrnews.com.
About Nitin Chhoda
Nitin Chhoda PT, DPT is a licensed physical therapist, a certified strength and conditioning specialist and an entrepreneur. He is the author of "Physical Therapy Marketing For The New Economy" and "Marketing for Physical Therapy Clinics" and is a prolific speaker, writer and creator of products and systems to streamline medical billing and coding, electronic medical records, health care practice management and marketing to increase referrals. He has been featured in numerous industry magazines, major radio and broadcast media, and is the founder of Referral Ignition training systems and the annual Private Practice Summit. Chhoda speaks extensively throughout the U.S., Canada and Asia. He is also the creator of the Therapy Newsletter and Clinical Contact, both web-based services to help private practices improve communication with patients, delivery better quality of care and boost patient retention.