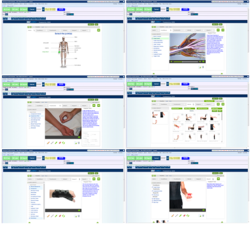 I am excited to see our product integrated with such a comprehensive and advanced Physical Therapy practice management systems like Billing Dynamix
Clearwater, FL (PRWEB) November 19, 2012
Statistics show that PT patients retain less than 7% of what is explained to them through traditional methods of practitioner. Surveys also show that the lack of understanding by the patient of their condition is the number one reason for patient cancellations, a poor clinical experience and inadequate treatment plan adherence.
"When patients 'know why - they tend to comply!' 3DRX have created the most extensive and professional library of Medical 3D Animations along with a massive library of Rehabilitation Exercises and a fleet of other Innovative Patient Education Products," says Eldad De-Medonsa, PhD, President of Billing Dynamix. "With 3DRX, our clients will not have to choose which system to use and will be able to educate their patients without leaving their SOAP notes."
"I am excited to see our product integrated with such a comprehensive and advanced Physical Therapy practice management systems like Billing Dynamix," says Dr. Travis McDonough. "The integrated solution helps Physical Therapists educate their patients without disrupting clinician's workflow, while making sure that the patient visit gets documented and billed for."
The survey results from 22 practices across 3 countries, over a 8-month period using the 3DRX Products have been staggering:
19% increase in New Patients
27% reduction in Patient cancellations
36% improvement in Patient Satisfaction with their clinical experience
94% overall Practitioner satisfaction rate by the clinics using the program
About 3DRX
3DRX is the global market leader in 3D Animation and Rehabilitation Programming specializing in Physical Therapy. 3DRX was founded by a group of highly qualified Physical Therapists, and other physical medicine specialists in collaboration with world leading medical animators. For more information visit http://www.3drx.com.
About Billing Dynamix
Billing Dynamix is an ONC-certified, fully integrated, 100% cloud-based Physical Therapy Practice Management Solution that includes customizable scheduling, touch-screen documentation, and a result-driven billing platform. For more information visit http://www.billingdynamix.com.