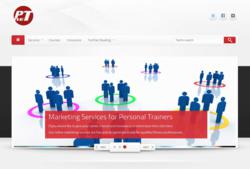 Many personal trainers don't have a website because they don't realise the value in having one.
(PRWEB UK) 17 July 2012
PTNet, the London-based marketing company catering exclusively to personal trainers and fitness instructors in the United Kingdom and beyond, is proud to announce their newly tailored line of online marketing services. These include free website design, affordable SEO treatment, and free Google AdWords vouchers for members who enroll in their referral program.
Exclusive for personal trainers worldwide, PTNet is now able to provide internet marketing services which have been designed to save members money, while still allowing them to make a big impact online. With free web design based on a variety of attractive templates, a no-cost website update system which is as simple as updating a Facebook status, and an included domain name, the package PTNet puts together will only cost a nominal monthly hosting fee. This truly offers a comprehensive solution for fitness professionals.
Google search volumes indicate that personal trainers are searched for over 100,000 times each month, and yet many fitness professionals have yet to set a web site up. According to PTNet's Support Coordinator Paul Allen, "many personal trainers don't have a website because they don't realise the value in having one. When they see the online search volumes they can't believe what they've been missing out on."
On top of the solid base of a customised web site, PTNet builds real marketing power into members' sites by working to improve their clients' search engine rankings. The package includes evaluation of current and desired positions in a keyword search (tailored to each client's location and specialities), an audit of site content to improve its ranking, and the guarantee of external links which point back to the client's site each month.
Even with good optimisation driving traffic to a web site can still be difficult. PTNet offers advice to members on how best to use Pay-Per-Click advertising through Google AdWords. A nice start of £50 worth of PPC AdWords credit is awarded to those members who choose to join the PTNet referral program.
In order to address a vital part of being successful in the industry, PTNet offers advice on insurance coverage for fitness professionals in the United Kingdom. Finally, for those in the UK who are not yet certified as professional trainers, PTNet ensures that they get good, reasoned help in order to guide these prospective fitness professionals through the process. With a broad knowledge base and clear understanding of the value provided by individual personal training courses and various packages, PTNet is prepared to help each individual address their specific educational needs and go on to succeed in this industry.
PTNet is entering the market with an aggressive lineup of tailored solutions. The company is passionate about their offerings. "We are happy to make these solutions available to qualified fitness professionals," said Allen, "and we will continue to support them."
About PTNet
PTNet (The Personal Trainer Network) is a London-based company devoted to the provision of services tailored to the needs of personal trainers in the UK and around the globe. With extensive experience in the world of fitness, intimate knowledge of the requirements for entry into the market, and proven expertise in marketing personal training businesses, PTNet offers solutions for real daily concerns which are unique to the large community of personal trainers across the globe. In addition, PTNet offers interested fitness enthusiasts advice on how to become a personal trainer.
PTNet can be found on the web at http://ptnet.co.uk