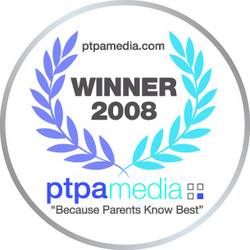 Green families are beginning to voice their opinion to the companies they bring into their home - from highchairs to baby bottles - parents are starting to take control over the types of products that are being sold at retail. Consumers want products that are not only safe for their kids but safe for the environment
Toronto, Ontario (PRWEB) September 29, 2008
Responding to the growing number of parents choosing to use products that have minimal impact on the environment, PTPA Media is announcing its second call for "green" products.
PTPA Media, a company that awards its seal of approval to products for children and family that have been tested and approved by the PTPA Parent community, realizes that families are increasingly becoming more proactive about going "green". In its ongoing pursuit to offer child and family-friendly products that are designed to enrich family living, PTPA Media plans to continue the Green Award as long as parents are persistent about living an eco-friendly lifestyle.
"Green families are beginning to voice their opinion to the companies they bring into their home - from highchairs to baby bottles - parents are starting to take control over the types of products that are being sold at retail. Consumers want products that are not only safe for their kids but safe for the environment," said Sharon Vinderine, co-founder of PTPA Media. "We hope that with our call for green products we can highlight the best of eco-friendly manufacturers and provide parents with a wider range of green alternatives."
To qualify for the "Green Award," products must be submitted before October 15th with winners being announced at the end of November. Submissions will be reviewed by a panel of PTPA Media Product Evaluators. Interested "green" parents who would like to make a difference with their own valuable evaluation can also learn how to become a PTPA Media Product Evaluatorby visiting the PTPA Media site.
More About The Awards...
As word has spread about the superior products mentioned on the PTPA web site, especially those that have received the organization's seal of approval, more and more parents have flocked to the web site for consumer purchasing advice.
Award winners have the opportunity to gain top-notch exposure for their products through local and national news releases, television and radio coverage and through the PTPA Media web site and online store. Winners also receive invaluable market research, confidential feedback/suggestions and development information from targeted consumers, as well as online sales exposure through the PTPA Media web site/online store and exceptional brand exposure. This gives participants further exposure to thousands of retailers and parents in search of the safest, kid-tested products. Finally, all winners will be given the opportunity to display the PTPA Media seal of approval on all packaging and online, which signifies to parents and consumers the products are parent-tested and parent-approved putting consumers' minds more at ease.
PTPA provides an objective means to discover, appraise and promote new products designed to enrich family living. The company's mission is to marry innovative companies with discerning consumers, and to provide reliable and relevant information to both parties with the intent of improving the consumer access to exciting quality products. PTPA will provide a platform for companies to introduce their products for evaluation and feedback from the experts that matter most - parents! Award recipients will have access to promotional expertise and extensive advertising and marketing venues.
For additional information on the news that is the subject of this release, contact Sharon Vinderine or visit http://www.ptpamedia.com.
###