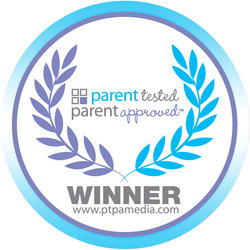 Seeing the PTPA Winner's Seal on a product package or website helps parents identify products that have been tested and recommended by other parents. It's like shopping with your best friend
Toronto, Canada (Vocus) November 8, 2010
PTPA Media, North America's leading awards program, is proud to announce their newest recipients of the PTPA Media Awards. All products included have been tested by a group of select families from PTPA's 40,000 plus volunteer testers.
A doll company that celebrates girls and all that they can be; a cream that relieves pain without the use of conventional medicine with unbelievable results and a screen that protects your TV from game controllers accidentally being thrown at it. These are the latest innovations from companies such as American Girl, SafeTvision and Topical Biomedics that have recently been awarded the PTPA Seal of Approval.
PTPA Media is North America's largest parent tester community – a credible third party resource for parents with over 40,000 volunteer parent testers.
"Seeing the PTPA Winner's Seal on a product package or website helps parents identify products that have been tested and recommended by other parents. It's like shopping with your best friend," says PTPA Founder and CEO, Sharon Vinderine.
Since 2008, PTPA has evaluated thousands of products and services from leading manufacturers and emerging brands. Because independent parents evaluate these products in their own homes, PTPA winners are chosen based on merit and consumer experience – not on commercial considerations.
PTPA Media has become a recognized source by the media for credible and reliable recommendations for the audience. PTPA Founder Sharon Vinderine has presented PTPA winners on over 40 morning shows including the Rachael Ray Show, Fox and Friends and Canada AM.
Here are just a few of the innovative new products to receive the PTPA Winner's Seal of Approval for November 2010:
Comodo's Geekbuddy – 24/7 support for your computer issues right from your desktop. Simply click an icon on your desktop and get instant access to a technician to remotely diagnose any computer problems. It doesn't get easier than that!
The Fresh Diet – 3 healthy meals and 2 snacks freshly made and delivered to your home every morning. Fresh and nutritious ingredients to accommodate almost any diet or health program. Simplicity at your doorstep.
Aquatopia Safety Bath– An audible temperature alert for your newborns bathwater to ensure proper temperature, a kneeling pad that stores everything you need for bathtime in one handy spot, both award winning innovations by Aquatopia.
Baby Einstein Discovery Kit- A DVD, a music CD and a book or discovery cards that work together to engage your infant in a visual and musical discovery with the great quality you have come to expect from Disney.
For a complete list of award winners, visit the newly updated website
About PTPA Media Inc.
PTPA Media provides an objective framework for appraising and promoting new products designed to enrich family living. The company's mission is to marry innovative companies with discerning consumers, to improve consumer access to quality products and services for their families and homes.
###