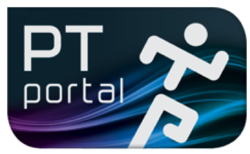 PT Portal are running a competition to win a business start-up kit worth £3000 for anyone who registers an interest!
United Kingdom (PRWEB UK) 25 April 2013
Launching 6th May 2013, PT Portal is the ultimate performance and client management software built specifically for the personal trainer (PT). It can be conveniently accessed online, on the move via mobile and can significantly reduce time spent on painful administration by automating some of the non-training tasks necessary for an effective PT business.
As well as reducing admin, PT Portal also does something revolutionary. Every client the PT registers with their PT Portal will automatically get their own online personal training application, which will be connected to their PT's application in a modern social media design. Through the portal, PT and client can now collaboratively work on the client's fitness programme: capturing and recording their fitness goals in a fully SMART way; record their workouts and exercises as they train, view and record workouts scheduled by the PT for them to perform on their own and assess their progress against their goals using the online assessment centre. All the information is presented graphically in the clients' own dashboard, so they can see the gains they are making as a result of their programme.
"The idea for the personal trainer software is strongly based on feedback from active personal trainers AND their clients. When developing the product we kept both the tasks that robbed the PT of valuable time, and the things that their clients would really want from a total training experience, at the front of our minds to create a dynamic and unique solution.
We're very excited about the launch and proud to have the opportunity to help revolutionise the PT business"
Simon Webster
Founder, PT Portal
To celebrate the launch PT Portal are running a great competition to win an ultimate business kit package which includes, professional logo design, design and build of a mobile friendly website, a .co.uk domain and one year hosting, mobile tablet, free professional online marketing, email account set up and one year free PT Portal Elite membership - with a total estimated value of over £3000.
To enter, simply submit your email address on the PT Portal website http://ptportal.com/offer-kit.html. or visit our Facebook page. Competition closes 6th May 2013.