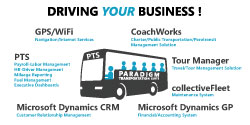 It was very important for us to partner with a large, financially stable organization such as Enghouse Systems Ltd (Toronto Stock Exchange – ESL) for the operational piece of the suite to help ensure the future enhancements as needed by our customers."
East Windsor, NJ (PRWEB) September 13, 2011
Paradigm Technology Consulting, LLC (PTC) is pleased to announce a strategic partnership with Enghouse Transportation (formerly TranSched Systems) to further enhance their Paradigm Transportation Suite of products. This partnership will add the operational (CoachWorks) and tour management (TourManager) components to the solution bundle which now includes; Operations, Fleet Maintenance, Financial, GPS/WiFi, Customer Relationship Management, Driver and Labor Management as well as Human Resource.
Bridgette Hobart-Janeczko, President of PTC stated "After undertaking our due-diligence for the past year, it was apparent that they had invested significant resources in the development of their product. It was very important for us to partner with a large, financially stable organization such as Enghouse Systems Ltd (Toronto Stock Exchange – ESL) for the operational piece of the suite to help ensure the future enhancements as needed by our customers."
Michael Gummel, Product Engineer for PTC adds "By adding these products into our suite, we are continuing our commitment to the transportation industry and rounding out our solution. We now have a solution for all aspects of the organization."
CoachWorks is a highly intuitive, user friendly, enterprise level computer system designed to meet the needs of the charter, school bus, and transit industries. The product increases productivity and streamlines the input and maintenance of estimates, trip orders and financial records.
TourManager provides tools for managing tour bookings, vendors, inventory levels, expense tracking, pricing "what-if" scenarios, to-do lists, reporting and marketing.
Brad Cameron, General Manager of Enghouse Transportation stated "We are very pleased with our new partnership with Paradigm. This relationship provides us with an excellent opportunity to continue to grow our business with a combined portfolio that serves the private transportation market."
PTS is a work force management focused suite of applications for the transportation industry and is designed such that organizations can utilize what they need in order to replace or supplement existing applications.
At the heart of the suite is the Driver and Labor Management which is designed to significantly reduce the high operating costs associated with processing driver trip reports, simplify driver and fleet reporting, and capture the wide range of information recorded by drivers. It also provides extensive functionality for the management of Human Resources, DOT compliance tracking, employee performance and advanced payroll calculations including the ability to handle unions, rate management, overtime, overlaps and guaranteed pays.
About Paradigm Technology Consulting, LLC
PTC is a Microsoft Gold Certified Partner. Founded in 1999, PTC has been working successfully with companies of all sizes to define, develop, and implement exceptional business processes and technology solutions. PTC employs a dedicated team of highly accomplished, experienced experts with strong backgrounds in business, finance, and technology. PTC is headquartered in NJ. For more information, please call PTC at: 866-782-4636 (PTC INFO), email us at: sales(at)ptcllc(dot)com, or visit us at: http://www.ptcllc.com.
###