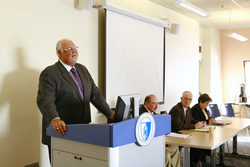 CPPSR has improved our responsiveness to the needs of veterans…
New Britain, CT (PRWEB) April 28, 2009
New research has identified significant rates of PTSD (Post Traumatic Stress Disorder) and other compelling needs of veterans returning from Iraq and Afghanistan. The Center for Public Policy & Social Research (CPPSR) at Central Connecticut State University (CCSU) and the Connecticut Department of Veterans' Affairs (DVA) recently released their needs assessment of returning Connecticut veterans. Based on the data, CPPSR has recommended fresh strategies to help veterans readjust to civilian life, and hopes to share its new research model with other VA departments nationwide.
The report, authorized by Connecticut Governor M. Jodi Rell and DVA Commissioner Linda Spoonster Schwartz, explored the significant medical, psychosocial and economic needs of these veterans, as well as the existing barriers veterans face in meeting those needs. It concluded with a series of recommendations, based on the research data, to optimize readjustment to civilian life for these veterans.
DVA Commissioner Schwartz said, "We relied on the expertise of the Center for design, data collection and analysis of the first ever Connecticut Veterans Needs Assessment… which serves as a guide for the development of legislation, programs and services." By doing this, she said, "CPPSR has improved our responsiveness to the needs of veterans…"
Conducted by Dr. Marc Goldstein and Dr. Jim Malley of CCSU, the assessment integrated data from meetings with veterans' service providers, focus groups with veterans, and a survey mailed to 2,050 veterans.
Some of the key findings include: almost 22% of veterans screening positive for PTSD; nearly 20% reporting difficulty in relating to their civilian friends; and over 10% reporting difficulty in connecting emotionally with family members. Additionally, veterans most in need of support are the least likely to seek it out. This reflected either distrust of the VA establishment or concerns about being stigmatized or de-normalized by seeking mental health treatment. These veterans are at particular risk of slipping into a downward spiral of marital and family problems, employment problems, substance abuse and problems with the law.
Among the primary recommendations are: to initiate a public awareness campaign to inform and educate on these issues, targeting the veterans and their families, the general public and non-military caregivers; to develop an early identification and outreach system for those returning veterans most at-risk for serious readjustment difficulties, who may need assistance; and to avoid stigma for veterans seeking help by creating an integrated network of mental health support services in non-clinical sites that veterans find comfortable, such as Vet Centers and veteran support programs.
"It is probable that many of the critical and chronic, long-term problems facing returning veterans in Connecticut are prevalent in every other state," said Goldstein, a Professor of Psychology at CCSU and one of the two principal researchers on the project.
CPPSR Executive Director Steve Kliger said, "We believe that our model may assist other states seeking to address the needs of their returning veterans." He said, "CPPSR is willing to work with other state VA centers to develop their own assessment tools to gather and analyze the hard data needed to provide necessary services to returning veterans. Our goal would be to create a profile of those veterans most at-risk and to develop short and long-term public policy recommendations in response to that data."
Kliger said, "Our experience collaborating with Connecticut's DVA has been positive and extremely rewarding. CPPSR researchers and staff are now ready to work with veterans' departments in other states, as well, to best facilitate veterans' return to civilian life."
CPPSR provides affordable, state-of-the art research, analysis and consulting services to enhance the quality and delivery of public and non-profit services. CPPSR offers its expert assistance to state government, municipalities, and community organizations through its full-time staff, expert faculty, motivated students and the University's many programmatic resources. CPPSR has extensive experience conducting needs assessment and opinion analysis surveys, program planning and evaluation, GIS mapping, the training, education and professional development for government officials, and in partnership with the US Library of Congress, is home to Connecticut's Veteran's History Project.
For additional information or inquires about CPPSR services contact CPPSR Executive Director Steve Kliger (860)832-1771; or CPPSR Associate Director Eileen Hurst (860)832-2976, or visit the CPPSR website: http://www.ccsu.edu/cppsr.
###