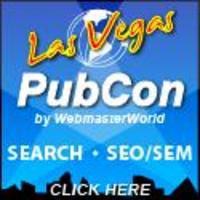 Austin, TX (PRWEB) July 15, 2009
Internet Marketing, and Search Engine conference and expo, PubCon, has announced early bird registration is open for its multi-track Las Vegas Conference, November 10 - 13, 2009, Las Vegas Convention Center. This event is supported by the industry's leading businesses, speakers, exhibitors, and sponsors involved in Web 2.0, Social Media, Internet Marketing, Search Engines, and Online Advertising.
Brett Tabke, PubCon's organizer, said, "With Las Vegas 2009 registration now open, early registrants can take full advantage of the discounted rate for our famed event. I believe this year's PubCon Las Vegas may lead the pack in providing attendees with the most cost-effective, highly-productive, educational conference. With the leading technologists and marketers participating, we're confident every attendee will come away with a whole raft of fresh ideas and solutions for their Internet marketing and web site needs, which is especially important in this current economy."
Want to know more? Check out the PubCon South testimonials.
Conference registration is at http://www.pubcon.com
About PubCon
PubCon is a multi-track educational conference hosted by SearchEngineWorld & WebmasterWorld. PubCon events are for thought leaders and professionals in search engine and Internet marketing and advertising to gather and to share best practices in the design, development, promotion and marketing of their Internet businesses and brands.
For more information about the conference, contact Brett Tabke at 512-231-8107 or brett at webmasterworld.com
In the U.K., contact Neil Marshall at 512-231-8107 ext 106 or engine at webmasterworld.com
For more details about sponsorship and exhibition opportunities, contact Strategic Marketing Director Joseph Morin at 512-231-8107 ext 104 or joe at webmasterworld.com.
###