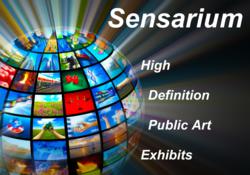 When our customers see the display, they stop what they are doing as they experience the art.
San Diego, CA (PRWEB) August 29, 2012
Sensarium is installing high definition art exhibits in public venues powered by SensariView. Using this original display technology, thousands of emerging and professional artists can reach new audiences, while businesses, public facilities and more can enhance the public experience of their buildings.
"After shooting the stunning wildflower blooms of 2004 in Death Valley National Park, everyone said I should do something with my work," said John Graffio, avid hiker and co-founder of Sensarium. After much research, he found most artists have tall mountains to climb if they want their works to be exhibited in public.
The solution developed by Sensarium's founders was to extend the concept of art in public: install high definition digital monitors as living art galleries in venues and broadcast the art to new audiences with Sensarium's proprietary SensariView™ technology. SensariView™ presents interlocking productions simultaneously on multiple high definition screens. The timing and presentation of video and imagery creates a stunning visual experience. Sensarium can also broadcast sound if desired.
"When our customers see the display, they stop what they are doing as they experience the art," said Diane Walden, co-owner of California Tea & Coffee Brewery in Temecula, CA. "People stay here longer and become loyal, long term customers," said Vern Walden, also co-owner of the coffeehouse. "It adds a whole new dimension to our concept."
Sensarium is dedicated to serving artists, the public and venues. By providing artists a means of exhibiting (and selling) their work, the public is given a new way to experience art, while venues that host galleries benefit from artistic ambiance and recognition in the community.
Sensarium has many artist programs, and their signature artist program is the Featured Artist Program. Designed for the artist or photographer who wants a dedicated, prime time exhibit of their work, the Featured Artist Program allows artists to rotate selected works from gallery to gallery, enabling them to reach a large demographic and geographic audience.
One of the first Featured Artists Sensarium worked with was Native American artist Ironhand (William Swick). Master of multiple art mediums (glass, pencil, watercolor, acrylic, metal, wood, oil, murals, computer art and music), capturing Ironhand's body of work was a challenge of love. Once it was possible to do justice to his vast holdings, it was apparent Sensarium could beautifully exhibit an artist of any medium.
Sensarium's signature program for venues is the Gallery in Residence Program. Venues hosting a digital art gallery add a new dimension to their surroundings, generate positive publicity and receive up to seven percent of revenue generated by the gallery.
The name Sensarium was chosen to signify the company's future goals: the development of dedicated digital galleries where visitors can experience an interactive artistic and musical immersion experience.
About Sensarium
Sensarium, Inc. (http://www.sensarium.com), founded by artists and engineers, provides display technology for venues and production services to artists and photographers who want to effectively and affordably exhibit their works in public.