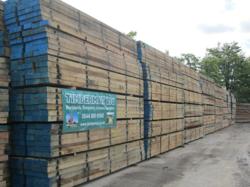 There is a huge amount of innovation, legislation and change taking place in the construction arena and communication and profile has never been more important
Suffolk, UK (PRWEB UK) 15 February 2013
Timbermat joins the growing portfolio of industry-based clients for The Write Impression, ranging across construction, plant equipment, architecture and renewable energy.
'Over the last few years we have built a niche for ourselves working with some of the leading names in UK construction,' said Kate Everett, Partner at The Write Impression. 'It may seem illogical that our company has significantly increased its business across this sector during some of the UK's most challenging economic times, but there is no doubt that those companies who have continued to invest in marketing and communications are thriving. There is a huge amount of innovation, legislation and change taking place in the construction arena and communication and profile has never been more important. What the industry needs to build on is trust and information and there is no shortage of either. We are delighted to be working with some of the UK's most forward thinking companies and helping them to grow their brand and profile.'
Supported by team of experienced writers and creative minds, The Write Impression aims to deliver imaginative PR and communications through press and media coverage, social media, online strategy and direct communications.
Working with The Write Impression, Timbermat, based in Stockport, who supplied ground protection mats and crane mats to the London 2012 Olympic Games and Paralympic Games, has increased its profile both in the trade press and through direct communications.
'We have worked hard to stay ahead of environmental legislation and continue to bring innovative new products to the market,' said Timbermat's Managing Director, John Roberts. 'It is important for us to have a platform to talk about that. We are working on some major contracts throughout the UK and communicating that to our client base helps to raise our profile. The Write Impression has helped us build a strategy where we can communicate with our customers and the industries we work within effectively.'
For more information contact The Write Impression on 0845 5272 801 or visit http://www.thewriteimpression.co.uk