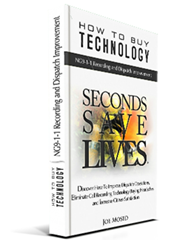 In the Dispatch Center, Seconds Save Lives!
Southfield, MI (PRWEB) March 28, 2012
To succeed in our current economic environment, Public Safety Administrators and Managers need key tools and strategies to ensure they receive the highest quality systems to build their Next Generation technologies on.
In How To Buy Technology – NG9-1-1 Recording and Dispatch Improvement, Joe Mosed discusses the key strategies and tactics that contract and procurement officials can follow to succeed in understanding the burgeoning Next Generation 911 environment and acquiring the appropriate system solution for their unique PSAP (Public Safety Answering Points) requirements.
According to Mr. Mosed, "citizen satisfaction and excellent public safety are the required end result. The goal is to find a balance between - Great Service, Great Quality, and Great Pricing." "Dispatch improvement is a critical component because the amount of data that comes at dispatchers will increase by at least three times over the next couple of years. If the proper tools are not in place, the training and learning will be under par which is not acceptable when lives are on the line." he said.
The How to Buy Technology – NG9-1-1 Recording and Dispatch Improvement book guides public safety officials responsible for procuring and maintaining their communication and data acquisition systems on how to understand the sales processes, more efficient procurement methods and available funding programs that may assist these professionals.
For additional information on the book: How to Buy Technology; NG9-1-1 Recording and Dispatch Improvement, visit here: Dispatch Improvement.
About Joe Mosed: Joe Mosed is a seasoned entrepreneur and author focusing on educating the user community. As Founder of the Equature NG9-1-1 Recording and Dispatch Improvement suite, he is focused on serving the public safety market with the understanding that SECONDS SAVE LIVES.